In April, not long after I left my job, we went on holiday to Cyprus, to the small town, or village, of Kapparis, in the Paralimni area, not far from the border with Turkish Cyprus and Famagusta. Almost everything about the holiday was mediocre and adequate. A rented flat that was as advertised and met our needs, but with a distinct feel of shabbiness, cheap equipment, and a roomy but uncomfortable bed. There were several mediocre restaurants in the village, shops that met your basic needs (except that the bakery and highly-rated ice cream parlour immediately below our flat had closed down and was only reopening for summer on the day we left!). 
The beach near our flat was lovely, but I didn't take any photos! It was called Fireman's Beach. I can imagine it gets very busy in high season, but we never found it too much, except on the May Day Public holiday. In April, we were able to use the loungers and umbrellas for free.
It wasn't a great holiday but it wasn't in anyway awful .Nothing went wrong. We had ten or more days of glorious warm sunshine, and hired a car for three days when the weather wasn't so good - but good enough. There was only one meal that I could honestly say was uneatable, and there wasn't a single incident one could describe as unpleasant. I spent a lot of time on the beach, in and out of the sea, loving the sensual pleasure of swimming, or floating, or gently resisting the gentle current and negligible waves. When I wasn't in the sea, I was able to lie on my lounger reading my way through several books: 
Oddly, I didn't take any photos on my first couple of days. Perhaps I remembered too many other holidays when I have spent the first few days snap happy, and, on reviewing the photos, have realised that most of them were repetitive or insignificant.
On the first evening we ate at Karas Village Taverna, one of the two better restaurants in Kapparis. We chose a fish mezze. Given the choice of medium or large, Jimmy chose large. Medium would have sufficed. Each course came so quickly that I felt rushed and didn't get round to photographing them.
The next day was a beach day; when we had finished on the beach I got very drunk  (by my current standards) on three cocktails and ate at Tony's Tavern. I suspect we didn't get it at its best; not yet geared up for the season, each of the dishes we initially ordered wasn't available. And it was far from exceptional.
The following day we walked almost to Pernera. That wasn't our intention, but nothing was open, even for coffee, once we had left Kapparis. We ended up in Onassis as the only customers. they suggested we went off menu, and Jimmy said that his lamb stew was his best meal of the holiday - it was what the owners (Mother & Son, I assumed) were having for their own lunch. I had a decent piece of fish.
Much later in the evening, we had quick plate of pasta at Just Italian which was flavoursome and nicely served. I actually got my camera out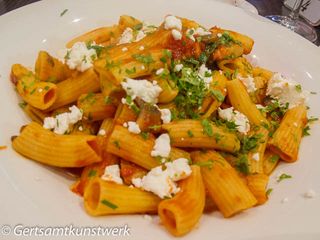 I don't really like doing a blogpost with so few photos and thought I might add a few random photos which might be my 'best from Cyprus'. But there aren't really any: not ones that I can publish without an explanation of them. 
After we got home we agreed that it wasn't by any means a horrible holiday, but it was a lot of money to pay for such mediocrity. I tried to like the landscape but I just can't. I wasn't sufficiently interested in any of the touristic or historic sites. And I didn't have a single meal that I thought was in anyway memorable; everything seemed dated and uninspired; every Cypriot style restaurant had just about the same menu, the same plain dishes and boring salad, or steamed vegetables, rarely with a sauce, and with no demonstration of the 'chef's' culinary skills or appreciation of ingredients. I guess they provide what they think the tourists want; perhaps that is what the tourists want, but when people have to eat out, they tend to take what's given and don't complain - it would be too rude - nor inform management of what is lacking. You order it, eat it and pay for it, because it's eatable and nutritious.
We concluded that we keep making the mistake of heading to Southern Europe in order to swim in the sea. But in every other aspect, we find holidays in Britain to be preferable - nicer beaches, much better food, and culture we're actually interested in, as well as trivial aspects such as having access to British TV.