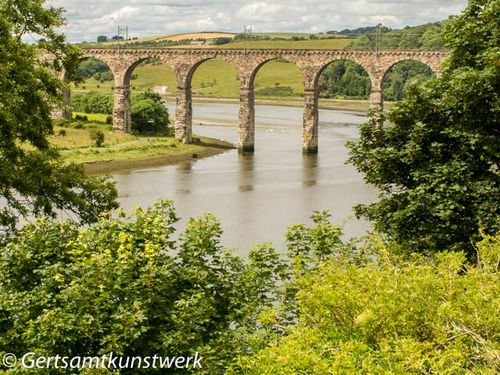 Last year I went to Berwick on Tweed. I had also been there in 1976, the family's first experience in a Hoseasons chalet park. That one had quite a bit of entertainment on site and was within walking distance of town. The parents learnt from that, and in future years we stayed at various sites without entertainment, each far enough away from the towns of Skegness, Tenby, Holyhead, New Milton, Lowestoft, Brixham, Dunoon and Bangor to avoid contamination. I don't remember much from that holiday, although I now have the family photos buried in the Tardis-under-the-stairs (scanning will be a winter task). I do remember:
it mostly rained - yeah, in 1976, just our luck;
one day it didn't rain so we went to a beach, a large beach empty but for us, until a few hours later when another party arrived and sat down just a few feet away;
another day, it didn't rain, and we went for a walk around the town walls
For this 2014 visit we checked the weather forecast and it was set fair and mild, with the chance of a light shower. When holidaying in England, do not be deterred by 'chance of a light shower' - either take waterproofs, or, if visiting an urban area, there will always be somewhere to shelter.
I was surprised at how run down the town centre seemed, albeit while trying to make a contrast with a faint memory from nearly forty years ago. One of the few significant towns between Newcastle and Edinburgh; I suppose focus is now on the out-of-town retail park; a familiar story from around the country.
After a decent coffee and brunch we set out to circle the town by the walls. We started by looking at the bridges, and the trains crossing the bridge to cross the border.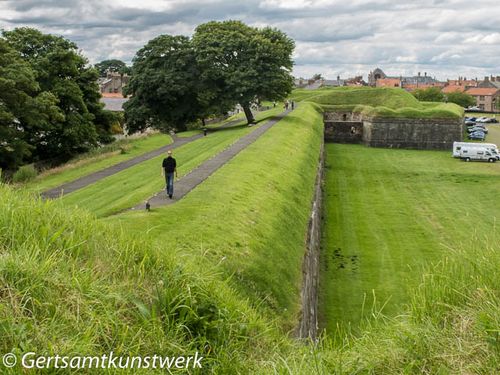 We popped into the town's museum and art gallery for an exhibition on LS Lowry. As a Mancunian I had grown up with Lowry, of course I didn't know about his links with the North East. I was struck by his sketches on industrial cityscapes, scenes that would have been taken for granted as unchanging back then, but have largely vanished. Until fairly recently most people's photographic efforts were concentrated on portraits and shots of group of posed people rather than documenting the quotidien. It's often only by looking back at old photos or sketches that you realise quite how significantly the cityscape has changed, but often in increments you barely notice as they happen.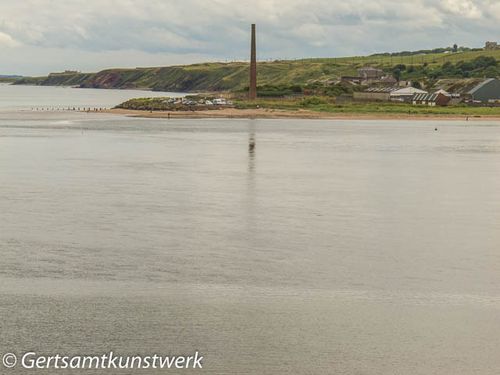 I managed to leave my walking stick in the museum (I'd had to leave it at Reception) and Jimmy went back to get it while I stood at the junction of the riverside path and a road bridge. I looked down on a derelict shop that nevertheless announced it was the home of Berwick cockles. It had closed four years earlier: MORE than 200 years of trading in Berwick will come to an end this week when Wm Cowe & Sons closes its doors. Lowry had painted it, so I felt no need to photograph it!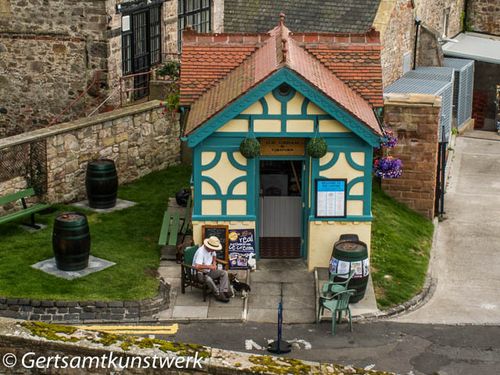 We walked around the walls, which is an experience you don't get in many towns - they form fortifications to keep out the Scots. If you look at Wikipedia there is an long tedious narration of how Berwick swapped between England and Scotland, and there is an urban myth that Berwick is technically still at war with Russia. Sadly, it's not true. But I've learnt that the Second World War didn't technically end until 1990.
 We stopped for coffee and ice cream (local, artisan, good quality) in the Loovre café, recently opened after conversion from a derelict public toilet.
There's a lot to see as you walk the walls: views out to sea and into people's back gardens.
It's always interesting to see how people use the space for leisure, such as safe cycling for small children.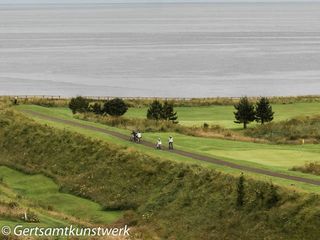 Lots of (presumably) older people efficiently using a small green space for crown green bowling. And far fewer people using the land hungry golf course.
Imagine how much nicer that land would look if the golf course was returned to nature and used by greater numbers of people.


Picture of barracks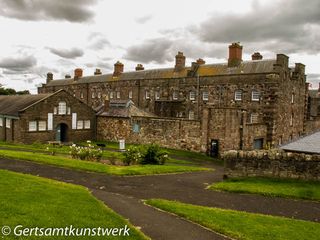 An interesting building looking oddly derelict - surely ripe for conversion to Yuppie flats: easy commute to Edinburgh
Just before we left the town, we popped into the supermarket for supplies. I couldn't help noticing how different the people seemed from those we had seen in Seahouses and Alnwick. the indoor pallor of skin, the flabbiness of bodies rarely exercised. And the dead look behind their eyes.