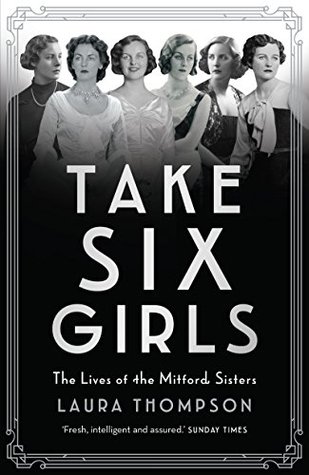 I don't know why I chose to read this book. Or, rather, I read it because I was fascinated, but I don't know why I was fascinated. 
People of my mother's generation thought these sisters were fascinating. In theory, for me, they were irrelevant. Born in the upper classes to a life of privilege, they were mainly known for whom some of them married. A very strong streak of Fascism. Difficult to identify achievements, certainly any of lasting value.
I remember when Nancy Mitford's Love in a Cold Climate was on the TV, but I was too young to watch it. My sister got the book, and I later read it, and enjoyed it, but didn't find it life changing (or thought changing) in any significant way.
In brief, six sisters. They also had a brother, who was killed in the Second World War. In the Pacific War, because he refused to fight the Germans. 
The parents were Fascist sympathisers, although the father began to see the error of his ways. Nancy was a novelist who lay slightly left of centre and did do constructive war work. Pam was into horses and dogs and was married for a while to a Fascist sympathiser, who nevertheless served in the RAF, but she spent most of her life with a female companion. 
Diana firstly married the heir to the enormous Guinness fortune but left him for Oswald Mosley, notorious Fascist politician of the 1930s - they were interned for much of the War, and their children, including Max Mosley of Formula 1 and Leveson Inquiry fame, stayed with Pam. 
Then there was Unity. "Hitler's Muse". Rumoured to have been Hitler's mistress. Rabidly anti-semitic. Not in that superficial way that affected the English upper classes (including some Royals) in the 1930s, but in a wear-a-Swastika and hate Jews, and live in the Berlin apartment of Jewish people who had fled persecution. She shot herself on the day Britain declared war on Germany, but survived, with a bullet lodged in her brain, inoperable. Her initial medical care was paid for by Hitler, who also arranged her safe passage to neutral Switzerland. She was brain damaged and regressed to childhood, eventually dying in the late 40s of meningitis. She died in Oban hospital, a hospital in which I have attended A&E. I don't recall any sign marking its place in minor 20th century history!
Jessica 'Decca' became a Communist and eloped to the USA, although she later left the Commies and became active in the Civil Rights movement, and wrote books. Debo married the second son of the then Duke of Devonshire, and because of the active service death of the older son, became Duchess of Devonshire. The older son was married to Kathleen Kennedy, JFK's sister, and the sisters were cousins by remove of Churchill. The Duchess of Devonshire was chatelaine of Chatsworth House and only died two years ago, a shrewd businesswoman who transformed her husband's family pile into a leading and successful visitor attraction.
Yes, they really are fascinating, and this book does a superb job of illustrating their lives, and that fascination. It's a pretty decent book; on the whole it's well written and I enjoyed reading it.
But in the end, I gave it three stars on GoodReads. That's my starting point: I choose to read books because I expect to like them, and this didn't disappoint. But nor did it do anything special. 
It assumes pre-existing knowledge. It's not unreasonable to assume the reader has already read several of Nancy's books, and I floundered here, because what I have read was so long ago I don't recall the details or the characters. But it also assumes a prior knowledge of people who have no modern significance. Of course, if you don't know about Churchill, why are you reading a history book? But Lytton Strachey, or Duff and Diana Cooper? Even Evelyn Waugh nowadays is niche, albeit a big niche. Fascinating fact - his first wife was called Evelyn!
I have a complaint about the formatting of the KIndle book. Obviously, this isn't a criticism of the author, and is irrelevant to paper copies. I am tolerant of poor formatting in books originally published years ago, especially in the era of literally setting the type into hot presses. But this was published only last year, and I expect all books in this decade to be properly formatted for ebook. My main criticism was that the numerous and copious endnotes were not hyperlinked, so I had to keep them open on my phone while reading the substance on my Kindle. Many of them were merely citing the source but a large number provided extra information. The book is in four parts containing several chapters, but the 'time left in chapter' referred to the part, an hour and a half or more, and the individual chapters were not hyperlinked in the Contents.
The author provided some thoughtful reflections that, to some extent, are relevant nowadays eg 
What was demanded were gesture politics, uncompromising affiliations, solutions based upon theory rather than the hesitant realities of human nature
or, on Oswald Mosley
He loved Britain and has been waiting for its call,' wrote Clive James in 1976, 'all unawares that the best reason for loving Britain has always [to date] been its reluctance to call him, or anybody like him.'
On the other hand, it also contains references to concepts that already seem dated, such as The Big Society.
Finally, the book is part of a series called 'Great Lives', but they weren't really. In some cases notable, or notorious, but at best middling, (second or third level). The fascination lies in the numbers - few families produce six sisters, and even fewer produce five who are worth writing about, and even fewer produce five members whose lives contradict each other.
To conclude, this is definitely worth reading if you already have an interest in the Mitford sisters, but I'm not sure it's of much interest to people who don't, or who are merely looking for background to the Thirties and Forties.