For earlier stages see Brixton to Ruskin Park Walk, Part 1 and Brixton to Ruskin Park Walk, Part 2.
The final stage is from Brockwell Park to Ruskin Park.
To be honest, it doesn't really a merit a stroll in itself. But, when he tackled the earlier part of the walk, we had finished with late lunch in the Lido Café and had preferred to walk home across the park rather than continue to the end of the walk. The Lambeth guide includes a partial tour of the park, including the Walled Garden, the Mansion House and the Miniature Railway, but we're familiar enough with the Park.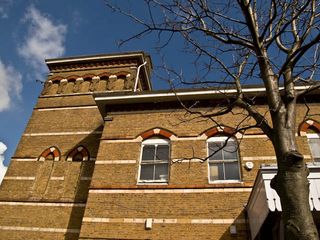 Instead, after a mooch round Brixton Market, we caught the bus to Herne Hill Station, and re-started our stroll. This was "built in 1862 in the Gothic Venetian style and is typical of the period. The square tower contains a water tank that held water for the steam engines."
It's a complicated junction, with 6 roads meeting and on the corner stands the Half Moon pub. For years, I assumed it was a Wetherspoons, given their liking for 'moon' in the names of their pubs, eg Lord Moon of the Mall, and, more ubiquitously, the Moon Under Water, after George Orwell. Jimmy remembers it as a boxing venue: his boys, now in their late 30s, attended a gym there. It's also renowned as a venue for live music and comedy, but I'm not sure its claims to be a 'gastropub' are really supported by a menu consisting only of pizza and burgers, albeit homemade, and Sunday Roast. We didn't go in.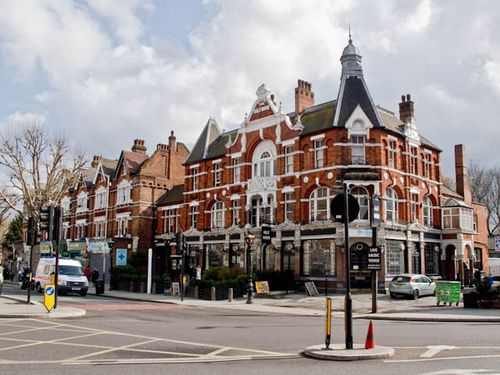 We started the slow ascent up Herne Hill, pausing to note the former Fire Station

Built in 1906, it dates from a time when fire engines were pulled by horses. The fire station closed in 1920.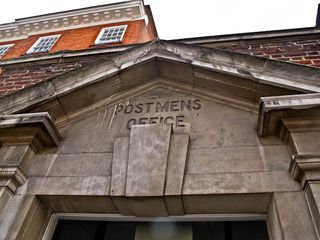 Next door is the former postal sorting office. I couldn't resist photographing the sign, noting in particular its missing apostrophe.
And, of course, its statement of employment practice! It only closed in 2007 or 2008, as far as I can make out from the internet - it's now a dancing school.
I have no objection to historic buildings retaining signs that point to a bygone era when women were not really considered to be workers - or, often, people in their own right. And I photograph them as a reminder that women have had to fight for what resembles equality today. None of what we have achieved was by baking cup cakes!
Incidentally, the Herne Hill Society doesn't seem to know the origin of Herne Hill as a name.
Not mentioned in the Lambeth Walk, but worth a deviation from their suggested route to have a look at St Paul's Church.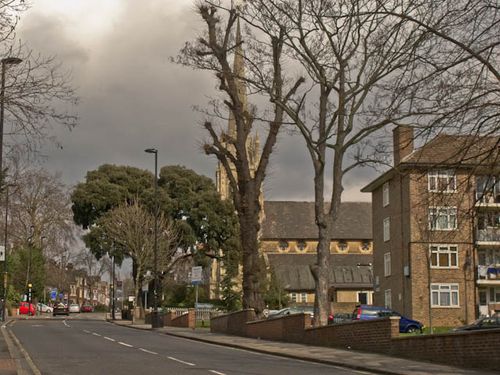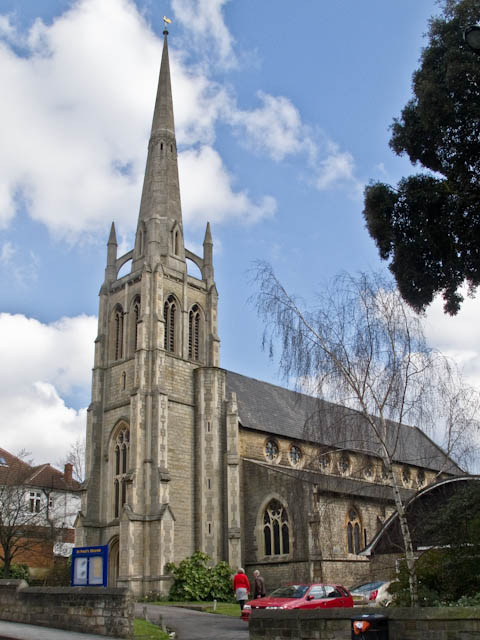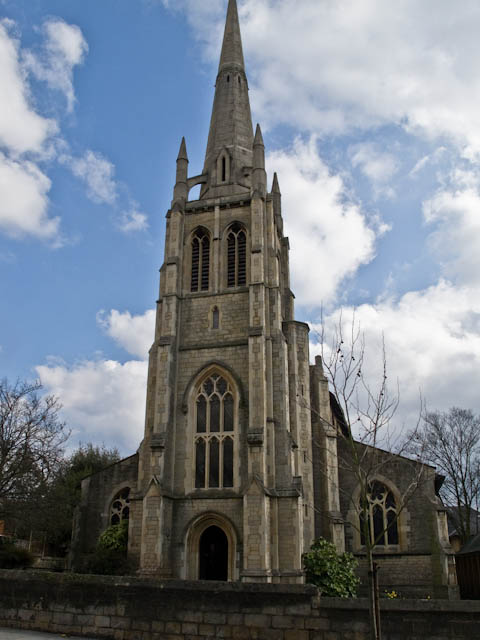 The original church built in 1843-4 by G Alexander was damaged by fire and rebuilt by Street in 1858.  The west tower, spire and long outer walls of the Commissioners' church were kept and the chancel was enlarged and embellished. It is Grade II* Listed for its special architectural or historic interest. (The pub and railway station are also listed). It seems that it is a joint parish with St Saviour's at Ruskin Park, perhaps more evidence that South London is over-provided with 19th century Anglican churches.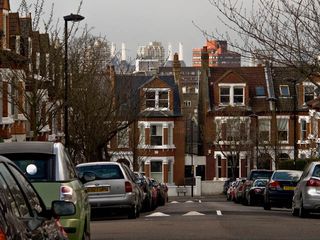 Some interesting views from Herne Hill - this of Battersea Power station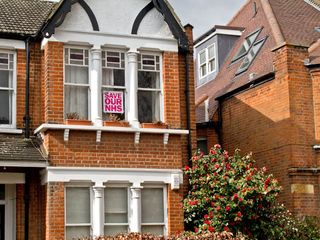 The Lambeth Guide suggested we walked along Fawnbrake Road.
Enjoy the late-Victorian houses and variety of doorways, some set back and at an angle. A few upper windows have original stained glass. Look out for pretty tiles beside the doors on the left.
At the time, the Bill to privatise the NHS was about to go through Parliament, so this sight was no surprise.
I enjoyed how the terraced houses were joined together behind the main line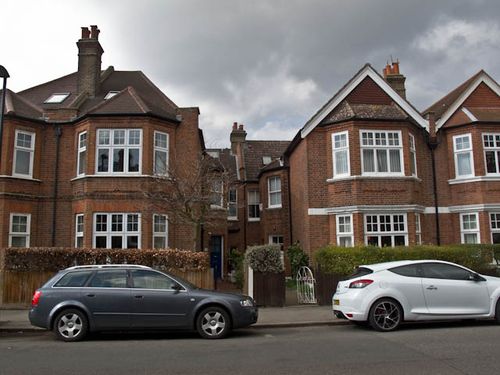 I suppose it appeals to the snobby, who can almost pretend they live in a semi, but I suppose it also means that the main habitable rooms only share a party wall on one side.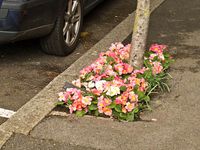 A nice little touch, with flowers planted where you normally only see soil or litter.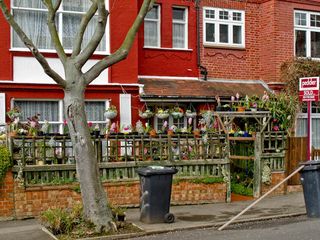 I photographed the front of this house, not realising that the owner was there, tending to his plants. He, Mr Brooks, invited us in to view and photograph the rest of his garden, out the back, and show us some traditional hospitality. It is certainly impressive what he has achieved, and it is very different from anything I have ever seen in a suburban house. He has at least 120 hanging baskets, and can spend up to three hours watering the plants. He is a retired builder, and has constructed the double decker, and the system for capturing rain water.
I thought there were some lovely aspects about the garden, and it is evidence of hard work and dedication. I suppose, ultimately, though, it isn't really to my preference. I think I would feel hemmed in, and I'd miss chance to sit or lie in the garden, to dine al fresco.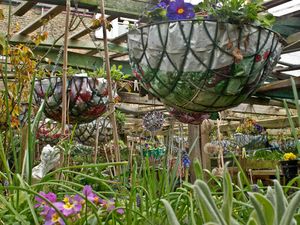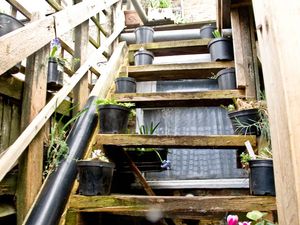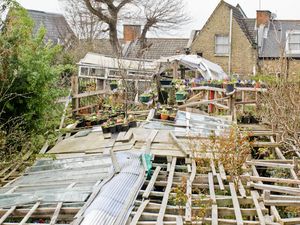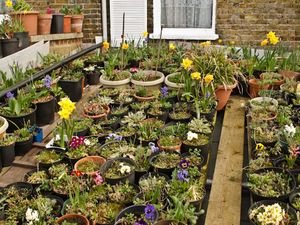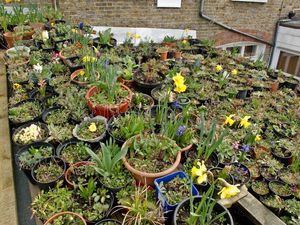 At the end of the road lies the magnificent Carnegie Library. Closed on Sundays, of course.Grade II listed, it was opened in 1906 after Lambeth received a grant from Andrew Carnegie. I'm not sure if he had any connection with the area; he was born in Dunfermline and emigrated to Pennsylvania at the age of 12. He made a fortune from steel, and spent his later years as a philanthropists, donating to public libraries. Perhaps motivated by a childhood in extreme poverty.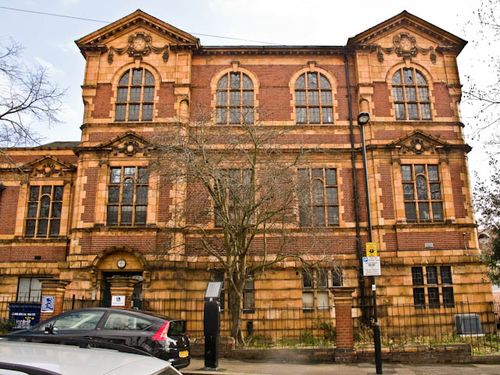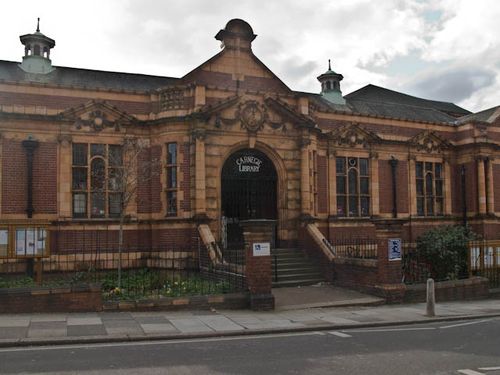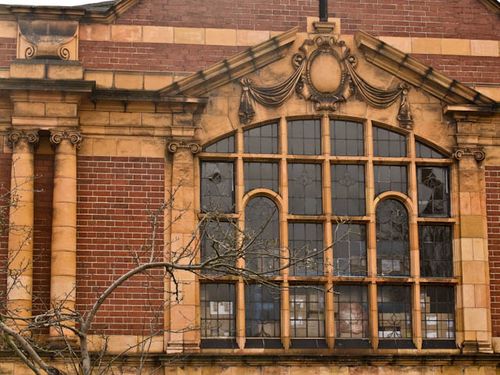 Also an interesting view from the road opposite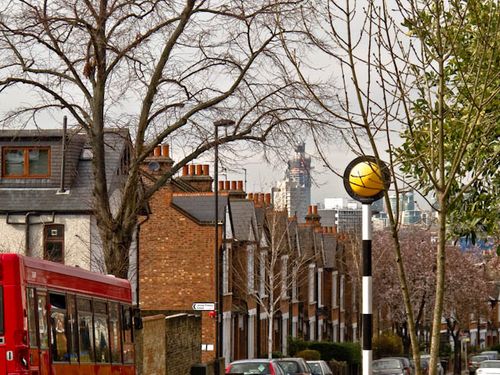 Unfortunately, that ugly St George Wharf Tower, like The Shard is set to dominate too many cityscape photos in South London. Talking of which...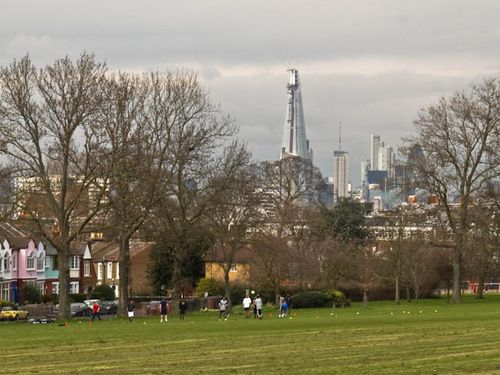 We wandered into Ruskin Park, which for me was hitherto mythical. Not only have I never been there, I don't think I've even been past it. And, I have to say, it probably isn't the most exciting park in Lambeth's portfolio. But pleasant enough. Or would have been if the weather hadn't deteriorated sharply. I was sensibly clothed in layers, but Jimmy had been over-confident about the temperature, and was beginning to feel cold. Still, it was good to see another park that's had money spent recently to do it up.
View over London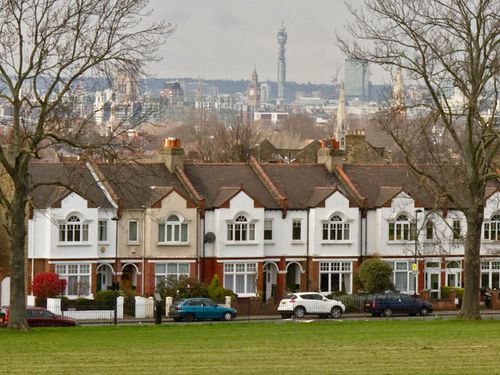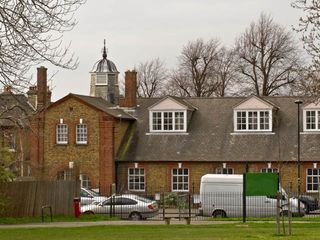 Another church, St Saviour's lies just outside the park. There's a lot of St Saviour's around these parts, and further afield, but is not listed by the Catholic Church. According to Wikipedia, Saint Saviour may refer to: 
Sanctus Salvator, a Latin dedication of churches or places to Jesus, translated in English as "Saint Saviour" or, more accurately, "Holy Saviour"
so, it seems to be somewhat of a historical 'head desk'! I assume this is actually the church hall (listed).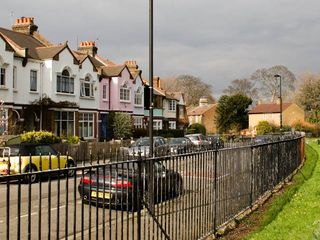 As we walked parallel with Finsen Road, I had one of those lucky moments. Despite the looming dark clouds the light was surprisingly bright, combining to set off the fresh colours of the housing terrace
We strolled around Ruskin Park, which was largely empty, except for the children's playground. I don't photo children's playgrounds unless unoccupied, for obvious reasons.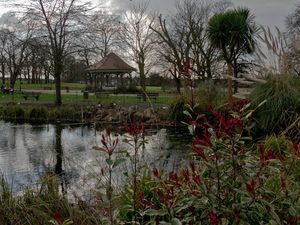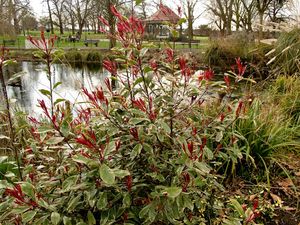 We retired to the Cambria for a drink. I can see that they're trying to make it a very nice place, but I'm not sure I'd return, even if I happened to be in the area, which, hospital visits aside, is unlikely.
On the way to the bus stop I saw a couple of random sights worth snapping. Or so I think, anyway!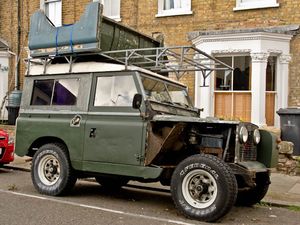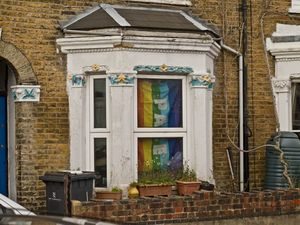 I think they've rather ruined the stucco by painting it. But each to their own, I suppose.
Unfortunately, we made a right mess of getting home. There's a bus that would have taken us almost to our door (45), but the bus countdown app said it wasn't sue for half an hour. So we thought we'd beat the system and get a bus via Brixton (35) to intersect with a bus coming from Clapham (137 or 417). We waited more than 15 minutes for the 35, and then had another 12 minutes waiting for the second bus. And the weather was getting colder and colder.
Still, I'm glad we finished off the walk.
Lambeth's guide is found as a PDF here and more about Walking in Lambeth here.