***WARNING: CONTENTS OF AN ADULT NATURE***
Sort of in response to comments left by Simon and Richard on my 1 Aug entry on this Wagnerian epic, I thought I would share a few thoughts about Tristan und Isolde.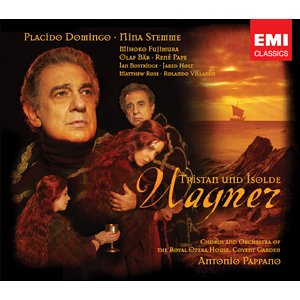 It's now been nearly four weeks since I got that CD version.My first listening created a favourable response, then subsequently, I took a while to get into it. Well, I've played it about half a dozen times since. The set also includes an audio DVD which you can stick in your player and have the libretto (German) and translation (English - or French, if you prefer) come up on screen, which is a fantastic idea, especially when you're lying on the sofa, too lazy to hold the printed libretto in your hand, especially if, like me, you have a habit of listening to the music and losing your place in the text.
About Tristan und Isolde, in general, it features the Tristan chord and started the move towards atonality. If you want to bother about that it is fascinatingly interesting, but, on the other hand, I don't think it's a great idea to listen to a nearly-four hour opera just for the sake of seeing how the chord resolves.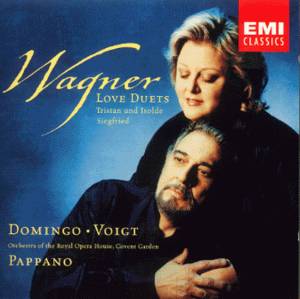 The story is very simple - boy meets girl, but the path of true love is never straightforward, and he dies, and then she dies. A slightly more detailed, but digestable synopsis. But actually, the best way to learn the story is to listen to - or watch - the opera! I have a DVD version which is okayish, but doesn't draw me to repeat viewings. Other versions exist, but I have not read anything to suggest that there is a definitive version out there. Nor did I previously have a CD version in my collection, although I have caught it on the radio once or twice. Additionally, I have recordings of the Act II Love duet, and of the Liebestod, and have caught the Prelude and Liebestod in concert.
So when I got the CD I wasn't exactly coming it to as unknown work but I could not in any sense be said to be familiar with the work.
I have an observation to make about this which I think applies to Wagner in general. On a first or early hearing the music is tremendously 'accessible'. People often are unaware of the enormous influence Wagner had on film soundtracks, right from the earliest days of the first 'Talkies' through to the present day - for example, Carl Davis and John Williams are heavily influenced by Wagner.
In a film the music is extra-diagetic, whereas in a Wagner opera, the music is an important part of the story-telling. This is very marked in the Ring where there are hundreds of 'Leitmotifs' which in certain places tell us something which isn't being spelled out in the libretto. For example, in Die Walküre when Sieglinde tells of a stranger who came to her wedding feast, the music tells us that it is Wotan. And later in the same opera, the Siegfried theme is heard even though he is, at that stage, merely in utero.
Tristan und Isolde also features leitmotifs.
However, liking the music superficially doesn't mean it gets under the skin immediately. So that makes it difficult for me to explain it to a virgin. The performance that Richard is going to is a concert performance. I see that Isolde is sung by Christine Brewer. She has an immense cult following and there are people who are looking forward to this with immense relish. I have heard her in Beethoven and Britten and had a rather indifferent reaction, but people say she is a great Wagnerian soprano. I don't know the rest of the cast so can't really comment.
Another way to analyse T&I is by reference to Schopenhaeur - sexuality, suffering, denial of the will, oblivion. Sex equals suffering; the sexual impulse was the expression of the will to live, but that will had to be denied. Wagner was very taken by the ideas of Schopenhaeur, but there is no evidence of him denying the sexual impulse.
What is extremely important is T&I is a very sexual opera; and probably the most erotic piece of music ever written. I'm not talking about avant-garde stage productions, I mean the actual music. There is a story that once when Gustav Mahler conducted it he maintained an erection throughout and finally had an orgasm. Which sounds pretty yuck to me, but also highly believable. And it's there in the music.
So, do I like it? You bet! What do I think of this latest CD? I like it. The Guardian and Independent wrote reviews that make sense to me. I am less taken by the Telegraph's review. Gramophone says
A really important release that captures Domingo in extraordinary vocal shape for a man in his sixties. Alongside him, Nina Stemme is the Wagnerian find of the decade, giving a staggering performance as Isolde. Pappano conducts with his customary flair and intense musicality, drawing some truly inspired playing from the Covent Garden orchestra.
Actually, it says a lot more in hard-copy but I can't be bothered to type it out...!
Of course, the great motivating factor to me buying this is the fact that Tristan is sung by Plácido Domingo, a role he has been promising to do for years, but won't do on stage now (well, almost certainly not...). And he does not disappoint on this set. I think if you want your Wagnerian tenors to bark and sound ugly, this isn't the CD to listen to. He has this gorgeous Italianate sound with a beautiful legato, although there is also are steely hints of 'helden' there. And the Mad Scene is really quite surprising. Although I listen to recordings by him a lot - almost every day - I am often taken aback and left breathless with surprise at how beautiful and expressive his voice is.
Of the other singers, I would put René Pape as the stand out. Nina Stemme has a pleasant voice but a bit generic, I think. Olaf Bär as Kurwenal and Mihoko Fujimura as Brangäne are at least adequate and possibly better, but I think as being very much 'supporting' - nothing really stands out.
There is some serious 'luxury casting' with Rolando Villazón as the Young Sailor and Ian Bostridge as the Shepherd. Ian Bostridge sounds really rather lovely, although I'm not a great fan. I am a big fan of Rolando, but I am indifferent to this cameo. It may be partly a product of the sonics - other people have commented on this: for purposes consistent with the drama, it sounds that he is coming from a long way off. Which is fine if you have a superduper music system in a bare room miles from your nearest neighbour, but in my world, this gets played through a bog-standard player in a cluttered room in a small house with neighbours living cheek by jowl. Or through earphones.
And, I suppose my main criticism is the significant dynamic ranges. I can see why, and in an abstract sense, it makes sense. But in practice I feel that it is a slight nuisance to have repeatedly to adjust the volume. There are some bits that are barely audible except at full volume; then other bits that are so loud my equipment can't cope and the sound is distorted. I have never encountered this before.
I have just got to the point where they have swallowed the love-potion and I can hear the cricket commentary over the orchestra. So, I turn up the volume, and suddenly the singing, of soloists and of the chorus is making my ears hurt.
Actually, for me, this is the bit where it gets going, after seventy two minutes of 'boring bits'. I don't really mean boring bits, but I find Act I significantly less satisfying than the subsequent two acts. This is the bit where they fall in love and start sighing over each other, as the ship approaches Cornwall, and after being all languid and reflective, the strings work up into a frenzy. In the theatre this would equate to an hour's snooze to be woken up to a sudden musical climax than jarred back into the bustle and shuffle of trying to grab a drink, smoke and pee. At least on CD, the machine just moves straight to the next disc, and to the glory that is Act II.
I like that string/woodwind dialogue and the way that it starts off being lyrical, suggestive of the sea, and hints at that leitmotif that I think of as the orgasm leitmotif. And the hunting horns. Oh yes, things are definitely picking up here. By the end of the second track Isolde and the orchestra are working themselves up into quite a frenzy. And there's another leitmotif that I really like - damn, I'm really going to have to familiarise myself with these leitmotifs...
And now Tristan's arrived and they're beginning to get it on. "Tristan! Isolde! Tristan! Isolde!" Just cool it, please, this is way too much sex for a Saturday afternoon - but at least, no chance of the cricket intruding. It's loud. I'm not sure what the audio version of a 'voyeur' is but I certainly feel that I'm eavesdropping at close quarters. And all it is music! And singing...
Now we have reached one of the highlights of the opera, indeed one of my favourite sequences in the whole musical world, the love duet, starting on Track 5 of CD2 with O sink herneider, Nacht der Liebe, twenty minutes of bliss, most definitely NSFW. I marginally prefer the version I have on the highlights disc. This partly because of the sound of the voices, but also, more prosaically, because the first hint of climax is one of those moments where the music gets just too loud and crackles with distortion, on my system. On the other hand, I think the orchestral playing, notably in the strings is unbelievably and exquisitely tender. And then it builds seemingly unstoppable to that stupendous climax; I defy anybody not to be physically affected, if not aroused. And then Kurwenal interrupts them to warn of the approach of Melot, who's about to betray them. Sort of coitus interruptus, musically speaking.
Act 3 is just beginning, and with serendipity will end in an hour and a quarter, just as stumps will be drawn at Trent Bridge. Gert Cottage is a contented cottage.
Tristan's Mad Scene, especially "Isolde kommt! Isolde naht! O Trueu! Hehre, holde Treue!" , is a real treat, astonishing. Although it is pointless to single out a specific scene or passage in my view, it would be worth getting the CD for this alone, let the rest. The startling contrast from savage, mad, singing quite a surprise in itself to the lyrical-but-still-deranged sound of Muss ich dich so verstehn, du alte ernste Weise, with its haunting cor anglais accompaniment. Most definitely not Wagner-as-bel-canto. Prior to the set's release , Tony Pappano said we would be in for some surprises, and he's not wrong. Actually, listening to this part of Act 3, it's pretty obvious that he won't ever do the role on stage, which is a big shame...
Another great highlight of the music is the closing Liebestod: Mild und leise. And then "...she sinks on to Tristan's body, ecstatic, immersed in the world's soul, knowing only rapture beyond compare." The orgasm is complete, and, I daresay the chord has resolved itself. And the listener is left trembling and awestruck, as Australia still trail England by 37 runs having been forced to follow-on...
On one of the newsgroups, somehow said they realised twenty years ago they could never again listen to Tristan und Isolde because it left them so emotionally wrung out it took days to recover, including days when they had to absent themselves from work.
It is broadly acknowledged that the definitive T&I on disc is
Not having this, I can't do a decent comparison. But it's on my wishlist, along with 92 other items...!
I started this post at 1435 and I am about to hit publish at 1825...
Update: A strange but interesting review from the LA Times
It's a glorious end to an era
Plácido Domingo's lavish 'Tristan and Isolde' is perhaps the last such opera project to spare no expense in chasing, and achieving, excellence.

By Mark Swed
A publicity photograph from one of the Abbey Road sessions for Plácido Domingo's long-anticipated recording of Wagner's "Tristan and Isolde" shows the tenor at his music stand wearing reading glasses and looking a bit grandfatherly. He peers up and away from soprano Nina Stemme. She's at her own stand, several feet from him, staring intently at her score.
Some gaze! Hardly a Tristan and Isolde so absorbed in each other's eyes that the world disappears. Hardly lovers lost in a desire that knows no boundaries and accepts no taboos.
Instead, we peek into what will probably wind up being the last big-name, big-bucks studio opera recording — the end of an era. No more spending hundreds of thousands of dollars coddling famous singers' egos. No more waiting decades to, with luck, recoup an investment. No more recording works with singers who have never performed their roles onstage and are long past their primes. No more sessions spread out over weeks, months, years. No more relying on technology that permits a soprano and tenor to record a duet without ever setting foot in the studio at the same time.
No more shifty studio magic. But then again, no more of that legerdemain to bring the music alive in ways it may never be in the opera house. This new "Tristan," which EMI Classics will release in the U.S. in September, turns out — against all odds — to be glorious.
Made chunk by bleeding chunk in London between Nov. 23, 2004, and Jan. 9, 2005, the set documents Domingo's only attempt at what most tenors feel is the most punishing role in the standard operatic repertory. Stemme, a Swedish soprano who emerged from Domingo's Operalia competition in 1993, has but a bit more experience with the opera. She had sung Isolde only in Stockholm and at Glyndebourne when the recording was made (she has since appeared in a new staging in Bayreuth this summer).
But Stemme is a fiery, ferocious, rapturous Isolde. She has a slightly steely edge to her dusky voice that I'd like to see soften, but her focus on music and character is riveting.
And then there is grandfatherly Domingo. At the end of his career, well into his 60s, he wanted to record Tristan. And what Plácido wants, Plácido gets. He reportedly helped raise the funds for the project, money he could have been raising for his cash-strapped Los Angeles Opera.
Of course, he could have been doing a lot of other things — and often was — such as running his other company, the Washington National Opera, singing a stupid opera (Franco Alfano's "Cyrano de Bergerac" at the Met), conducting here and there, following the "Three Tenors" money. But what he was also clearly doing was studying "Tristan" truly seriously and digging deep within his own psyche. And now he's made what, for me at least, is the most impressive and important recording of a not inconsiderable career.
Domingo, it has been claimed, has undertaken more roles than any other opera singer in history. And some would say he has accomplished this by singing them all the same way. But for this "Tristan," he brings all his incomparable experience to bear. He honors his innate Italianate lyricism. At the same time, he exercises his phenomenal curiosity and searches for the most profound dramatic meaning of his every utterance.
Meanwhile, he takes full advantage of the studio, which allows him to both marshal his forces and take chances. Big chances. The half-hour monologue in Act 3 is an epic voyage of self-discovery, and the normally outgoing Domingo turns inward as never before. His outbursts come from someplace inside that he has kept from his public until now.
All this and beauty too. At no point does Domingo sound anything less than luminous — or like a man in his 60s.
But he does sound wise and reflective and heroically determined in a way that a younger singer never could. In the love duet, his voice melds, ego-lessly, into Stemme's. In his monologue, he fights his own demons with a Jungian intensity. His yearning melts your heart.
Antonio Pappano, who conducts, is the other hero of this performance. He is alert to every small detail while nevertheless producing tremendous sweep and tension. The music director of England's Royal Opera, he gets the company's orchestra to play with satisfying richness and warmth. Yet he is always there for the singers, supporting them, giving them room to delve ever further.
This is a lavish production all around. No less than the sensational young tenor Rolando Villazón opens the opera with the Sailor's song. The ethereal lied singer Ian Bostridge is an ethereal Shepherd. Olaf Bär makes a vivacious Kurwenal; René Pape, an intensely moving King Mark. Mihoko Fujimura, a newcomer, sings Brangäne well.
The million-dollar push
THE recording cost a fortune, somewhere in the neighborhood of $1 million, according to British media reports. And EMI has gone out of its way to make the whole thing look ridiculously expensive, with yucky corporate-style graphics and wasteful glossy paper for the thick booklet. The set includes the opera on three CDs, recorded with such extreme dynamic range that I found myself constantly running to adjust the volume. A bonus DVD gives you a second, differently equalized recording of the opera in surround sound, with fewer extremes in the highs and lows (along with slightly lower fidelity). With the DVD, you can follow the libretto on your TV while you stare, for hours on end, at the vulgar graphics.
So should we shed a tear for the end of lavish studio recording? No, not really, although you do get what you pay for. Naxos has just released a budget "Tristan," recorded in Stockholm and fluidly conducted by Leif Segerstam, that is barely adequate (a shaky Wolfgang Millgram is Tristan, a somewhat more appealing Hedwig Fassbender is Isolde).
But if Naxos' version can't hold a candle to EMI Classics', neither can many other studio recordings made in recent years. The future lies with video and the documenting of theatrically compelling live performances on DVD. The next eagerly awaited "Tristan" will be the DVD of the Peter Sellars/Bill Viola Paris Opera production, based on the Los Angeles Philharmonic's "Tristan Project," to be filmed in Paris this fall with Valery Gergiev conducting.
Domingo's "Tristan" is a dinosaur. But it's a glorious one. What a way to go!