One of the many things I don't really really understand about Plácido's wonderfulness is the fact that he is very approachable. I've blogged several times about meeting him before and after performances, and even in his hotel. On previous occasions at Covent Garden, I've seen him stroll up to the theatre from a direction which makes me assume he had strolled across the Piazza. This time, for the five performances of Simon Boccanegra, he has approached from Bow Street.
To be honest, if I was in his position, and especially on the evening of a performance, I would arrive by car and be straight in through the Stage Door. I wouldn't want to talk anyone. Similarly, afterwards, I'd just want to get away, back to where I was staying, eat, drink, whatever.
And sometimes I think, it gets a bit silly, especially in my mind. Surely the point of going to an opera is to hear the music, watch the drama, applaud the scenery and so on. I do get into a frame of mind that 'meeting Plácido' is an inherent part of the show. And I love him for it!
I didn't attend the Friends' Dress Rehearsal, because I didn't have a ticket. As I knew he would be rushing away to Vienna, and I had a party to go to, I didn't even go into town to hang around, as I might have done if circumstances were different. He did appear briefly, captured on video.
On the Monday of the first performance, I had to go and buy a ticket off a friend, and I had to do that after work, and make a judgement about early I could leave the office (bearing in mind I am pathologically unable to get in before, well, I'm a late person). By the time I arrived at the Opera House, I was reliably informed that Plácido had already arrived, and had said that he would be leaving straight afterwards to go to Vienna (for Ioan Holender's final performance as Intendant at the Staatsoper Vienna, where he sang the closing of Parsifal).
On the Friday, I met up with a couple of friends for a bite to eat beforehand, so wasn't outside the Stage Door when he arrived. After the performance, a message came down that he wouldn't be meeting people that night - I later learned that Rolex, production sponsors, were hosting a reception - so my friends and I buggered off to the pub just in time for last orders (isn't Westminster dire - the one place where post-11pm drinking would be extremely useful, it doesn't happen!)
On the Monday, unusually for a Monday, I had to go into work for a couple of hours. I was a bit anxious that I would get delayed en route and would miss him, but in fact I arrived at about twenty-five to six, and he didn't arrive until quarter past. That's a long time to stand around doing not very much - although in time, friends arrived so I was able to chat with them.
Eventually, we saw Plácido strolling along Floral Street from Bow Street and I scampered over to him. As soon as I meet him, I am dumbstruck, not really knowing what to say, and fearing I might say something stupid. I mean, I have form, not just with him, or with other singers but with people in various walks of public life.
So I think I just said hello and gazed at him; he said hello and shook my hand. I think he had a look on his face along the lines of 'what stunt is she planning now'. Later a friend asked me about meeting him, and I said something like, 'he looked me up and down and noticed I wasn't wearing a low-cut top', so my friend, partly teasing, suggested that my remark was inconsistent with my claims to be a feminist. At the time I just I giggled, but later tweeted her that it's being a feminist that made me wear a round-necked top, and being a feminist doesn't stop him looking!
The Monday performance was followed by a Gala dinner which is totally not my scene, and we assumed  - correctly - that there would be no Plácido at the Stage Door, so again we buggered off to a (different) pub. And soon, he was off to South Africa for the best part of a week.
The next performance was on the Tuesday after the World Cup Final* and I have already written about that, plus photo. Afterwards I waited outside the Stage Door for quite a while. First of all, Joseph Calleja appeared, but I didn't step forward to speak with him whilst he was still surrounded by a crowd, and he walked off in the opposite to direction from where I was standing.
Then I met John Tomlinson, who had been substituting for Ferruccio Furlanetto (and very soon afterwards I fell into a pothole and then the gutter and hurt my foot). At that point I wasn't really clear how my foot was hurting. I often do things like twist my ankle and it hurts like billyo, but after half an hour or so it's worn off. On other occasions it actually doesn't hurt as much in the immediate aftermath as it does the next morning - this turned out to be one of those. Even so, when Tony Pappano emerged, I didn't feel much inclined to limp over to him and risk losing my balance in the crowd. He, too, walked off in the opposite direction.
Eventually, word came that Plácido was going to be signing at the desk just inside the Stage Door, and we were invited to form a queue. One of the ROH staff said that he didn't have much time and urged us to hurry - it was about quarter to midnight, and they like to close at midnight, I've found.
I think I've written before that I don't particularly collect autographs and I don't either feel a need to get a programme signed as a souvenir nor do I feel that a signature adds to the inherent value of a programme or CD. I do think that asking a celebrity for their autograph is often a convenient and easy way to make contact, and there is a very good reason why 'signings' are so frequently organised and so popular. I also don't like it when people present dozens of items to be signed.
It also irritates me when people decide that they have to tell their life story to a star.  Perhaps I am being a bit cruel, after all, there's nothing wrong in saying "I saw you in such and such in whatever year and really enjoyed it," or whatever, but when people start rambling on, and have to provide the context and back-story, too, I think it's incredibly rude - I mean, they really aren't interested, trust me, I read the body language and facial expression. So I (nearly) always try and keep it short and sweet. I asked his permission to take a photo. I have to say, I don't really like it as a photo, it's not very flattering, but here it is anyway: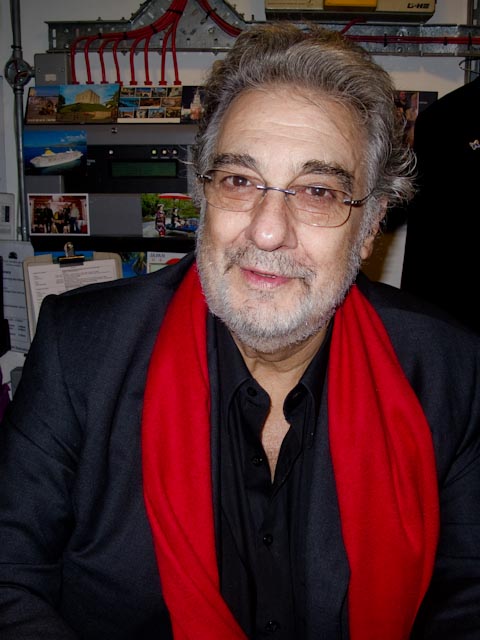 I think the red scarf is in honour of Spain winning the World Cup.
I then said that my mother had really enjoyed seeing Simon Boccanegra on the TV (she specifically told me to pass on this message; I haven't actually yet told her that I did!). He seemed delighted at this and beamed in response! And I limped away.
On the Thursday, I again escaped early from work and caught a taxi over to Covent Garden. I was dropped off on Bow Street and as I limped along to Floral Street, I saw a woman I recognised. Despite her looking very familiar, for a split second I struggled to place her - was she from work? someone who lives in my neighbourhood, perhaps? And then, of course, I realised she was an opera singer. Marina Poplavskaya, I thought, she must be going to tonight's performance. Oh, wait, of course, she's Amelia. She wasn't heading for the Stage Door, that's what confused me!
Again I waited for a while, again with friends, until he arrived. He seemed to be in a hurry or at least not in much of a mood to linger. I did try hobbling over to him, but I was getting nowhere fast - I think he noticed, though. I didn't get any chance to speak to him, and only a fleeting chance to take a photograph, which again, isn't great - I simply didn't get his eyes at all!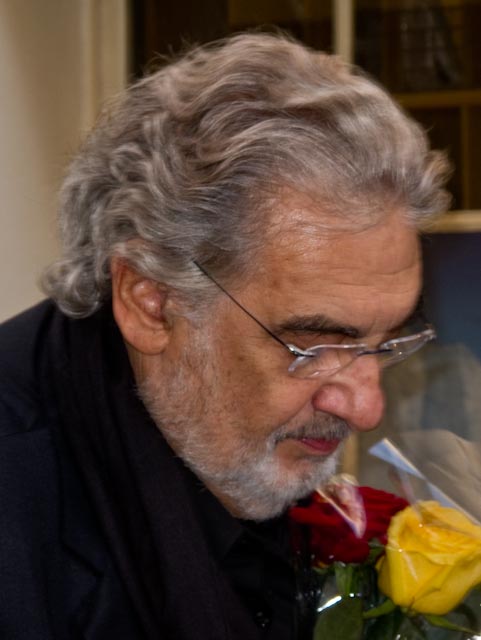 Still, I was in the front row of the Stalls for the performance, which was a brilliant place to be. I took about 30 photos at the curtain calls and, hopefully, by the end of the weekend, I will have half a dozen or so of the better ones up on the blog.
Again I hung around again after the performance, but word eventually came that he wouldn't be coming out, which was a bit disappointing, especially because, at the time, I was utterly convinced that it was his last performance in a full opera at Covent Garden. I did get to meet Joseph Calleja again - "Oh, it's you again!" he said. I said "I am such a fan of you now" which in retrospect must have sounded all wrong. Truth is, I have rarely heard him live - only as MacDuff previously, I think, plus on CD, and the rather thrown together at the last minute 'Tony Pappano and friends' concert last year.  I didn't go to the Traviatas he was in because I simply couldn't bear the thought of having to endure an evening of both Renée Fleming and Thomas Hampson - but I can tell from the excerpts which have been popping up on the BBC this summer that Joseph at least would have been worth seeing.
A friend of mine spotted Plácido arriving at the Albert Hall when she was in the queue for the arena. Also, from what I can gather from the internet, he spent some time outside the Stage Door after the Prom. But I wasn't there either time, basically because Jimmy was working until 3pm on the Sunday and afterwards, we'd agreed we would rush to get back near home and get ourselves a curry. Sometimes in life one has to sacrifice one's hero for one's partner!
So, I've written a very long blog post, largely about not getting to meet Plácido, except very fleetingly. As I said at the start, I think he's wonderful the way he is so approachable. Of course, this just leads to me having unrealistically high expectations. He's an extraordinary person. Sometimes I find it quite confusing when I do meet him. The main reason I adore him is as a singer, and alsong with the singing comes the total performance. More even than just 'acting' but the total stage presence. There were several times during the six performances of Simon Boccanegra, where I told myself "There on stage is the legendary Plácido Domingo. You are seriously privileged to be witnessing this extraordinary performance right now". I'm not sure how to describe this, but watching him in an opera - as opposed to a concert - there is nothing that makes you think 'famous, legend' except from the fact that you're watching a wonderful performance.
Outside the Stage Door he invariably comes over in exactly the way he is frequently described in the media. Unassuming and approachable, always courteous, always fairly and often very patient, in some ways quite an ordinary person and yet, even if he wasn't surrounded by adoring fans, I think you'd still know that there's something special about him. Nothing ostentatious - even though I know he has a liking for some of the finer things.
I am by nature a day dreamer, and I don't suppose I'm revealing anything by saying that I sometimes daydream about him. Setting aside fantasy scenarios, the sort of thing that fans often have about the object of their fandom, I do like to dream that maybe I'd meet him by chance. I'd love the opportunity to spend some time with him, properly I mean, get to know him a little bit. But I know I'm not alone in wishing for that, and I know realistically it's not going to happen. So, I make do with these fleeting opportunities briefly to meet him, to shake his hand, for our eyes to meet, an exchange of pleasantries and banal comments. Just for the sheer pleasure of being in his presence. It's wonderful to know that he's planning on coming back to Covent Garden, and that I've got tickets to see him in Barcelona next July. I'm going to treasure every moment of him I can get!

* He's already stated he'll have no singing engagements between 26 June and 14 July 2014 because he'll be in Brazil for the World Cup - dontcha just love him...