A whole load of links featuring Plácido Domingo and/or Simon Boccanegra I have saved over the past couple of weeks!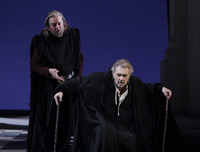 Late review from Bloomberg.

What a voice. He's as stylish, passionate and authoritative as ever in the title role of Verdi's opera, and as magnetic on stage too.
The notes are there, granted. They're just not the most exciting notes in his range. His baritone register is rich and rounded, not goose-bump thrilling.
Still, trying to grade Domingo on stage is like trying to give a star rating to a lightning strike or hurricane. Domingo is a force of nature, plain and simple, and it's wonderful to see him back on stage after his time in the hospital.
Domingo: I Don't Think About What Happened to Me; Death Is Part of Life
Interview with Efe
"I love challenges and not repeating myself too much, and if I can find something new, I try to do it...the important thing is to touch the hearts of the audience listening to you, to excite and move them, make them cry when they should cry and laugh when they should laugh. That's the privilege of being an artist...
"...I had a lot of luck and I see life from another perspective. I don't take things so seriously and I enjoy much more what is special and what is important. It's a privilege to still be alive and there comes a time when it all ends,
Kendal actor wins role alongside opera star
Westmoreland Gazette has feature on one of the extras in Simon Boccanegra

Boccanegra botch-up: Fiesco fiasco mars night that was meant to be all about Domingo
Very depressed/depressing review "Domingo isn't Gobbi" Oh, sorry, I forgot to go to that 1965 performance. It was three years before I was born
Domingo sara' Rigoletto in kolossal tv
Broadcast on Rai Uno on 4 and 5 September. I have subsequently read it will be broadcast in 134 countries. I can't help feeling that the UK won't be amongst those 134
Brief preview of Plácido's 7 August concert in Durango, Mexico

Regresará Plácido Domingo al estado de Durango
Football-related
A video in which Plácido accompanies Reina Sofia to the Spanish team's dressing room following the Semi-Final victory over Germany. My mother explained to me that King Juan Carlos doesn't get out much nowadays because he had treatment for a benign tumour a few months ago. I nodded and smiled, which conveys very little over the phone...
Plácido Domingo elogia a los españoles
After they had won the World Cup!
«Plácido, por favor, no grites mucho»
What Marta said when he called her after the World Cup Final!