Apologies for this very belated round-up of links. I have lots of excuses for being a lazy blogger, but, whatever!
'Die Walküre' and the shifting sands of dramatic restraint
Plácido Domingo's Siegmund and Linda Watson's Brünnhilde surged magnificently

For many in attendance last night, part of the attraction of this Die Walküre was that that the role of Siegmund was being sung by Plácido Domingo and he didn't disappoint. Although there were a few moments of strain, he gave a remarkably sensitive and powerful portrayal, especially notable given that (a) he's 69 years old and (b) less than three months ago underwent surgery for a localized malignant polyp in his colon. Domingo seemed to gather strength as the evening wore on; he was particularly impressive during the lengthy second act.


Whilst Los Angeles Opera was staging the Ring, they were also hosting the annual conference of 'Opera America'
one of the general sessions at the Opera America Conference was "A Conversation with Placido Domingo."

On the future:

"I still feel that I can sing, so I don't want to retire." (This received hearty applause from the audience.)

The secret to longevity:

"Always searching for new roles...it has been the itch to keep searching that has made my career very interesting."


Photograph from El Museo del Barrio gala on 27 May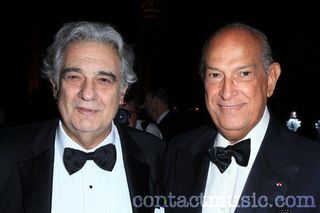 (I much prefer him with beard)
Brief report (in Spanish): Plácido Domingo homenajeado en Nueva York
Fete Accompli | El Museo del Barrio Gala
"Marta and I have been married 48 years now. When I ask her how it's been, she says, 'It was like 5 minutes … underwater.' "  — Plácido Domingo deadpanned.


(Lovely though he is, he must be a nightmare to be married to!)