Yeah yeah yeah, I know what you're saying - that was, like, five months ago and, indeed, it was.
The thing is, in an effort to catch up with my tail that's spinning round in a circle, I am in the process of going methodically through my PC. In doing so I have spotted some photos I took at the curtain call for the Don Carlo I attended in October.
These are now published in Performance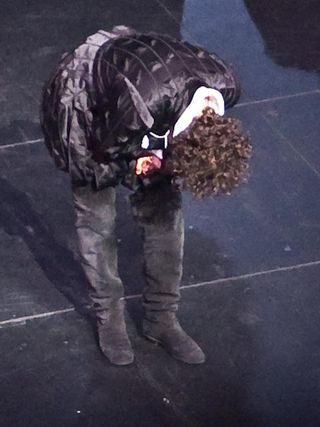 In the course of publishing them I had reason to look back at the blog reports I wrote at the time: Don Carlo - Instant Reaction and Don Carlo - Thoughts Upon the Opera . Together with the only solo photo I got of Don Carlo bowing, people might be mistaken for thinking that I was indifferent to Jonas Kaufmann.
Let me assure you I could never be indifferent to Jonas Kaufmann. I am kicking myself right now that I didn't write more about how superb he was. Far too long ago to write spiels of detail about how he executed this phrase or specifically coloured his voice in that way.
However, just for the record, I thought that Jonas was superb because he has a really gorgeous voice. It's not news that my favourite voice of all is the heavier/more dramatic/even slightly baritonal tenor voice, especially when it has beauty of tone such as Jonas has.
He has some very special tricks that he does with his voice. His pianissimi are extraordinary. It seems contradictory to praise them for being so audible, but that's trick - obviously pianissimi but placed with precision. I also love his messa di voce. And his musicianship is of the highest standard.
As important as singing is his stage art. I want to emphasise that I don't think 'looks' are particularly important in opera. I have noticed that Herr Kaufmann is DDG, but that is not my point. I do think, however, that an ability to act is extremely important. I don't expect opera singers to be comparable with the greatest of stage actors, but I do want their acting to be at least credible. Jonas Kaufmann is more than credible. He is convincing and he inhabits the part, so I don't see that he is acting, he is Don Carlo.
I also want to make it clear that Ferruccio Furlanetto and Simon Keenlyside were also superb. Marina Poplavskaya had sung Elizabetta in the original production in 2008. Those of us who clocked her potential way back in 2006 were somewhat disappointed in the initial run, which is, unfortunately, the one preserved for posterity - shown on the TV a couple of months ago. It was wonderful to see such an improvement - experience, maturity etc - that again demonstrated that her star is in the ascendancy.
Incidentally, my failure to praise Jonas Kaufmann was echoed a couple of months later when I failed to praise Gerald Finley as Iago. It's almost like I assume that you know how much I like these people so I don't need to tell you. But if you like them too, and you couldn't be there, I guess you'd want to read a bit more than passing references!