Granada, from a very un-Granada-like Baden-Baden (weatherwise).
I suspect it was cold as well as rainy; I don't suppose his scarf and Virginia Tola's shawl were part of the original plans.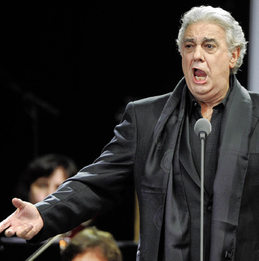 And a report from the concert, in German of course! (I love the headline!)
    Der "Marathon-Mann" trotzt dem Regen
He did a Press Conference earlier in the week, and, as the concert was held at a race-course, he was asked whether he bets on the horses. His answer was basically 'no', and his reason, his lucky number is 21 and you don't get many horse races with 21 horses-and-riders in them.
I found a report (in Russian) of the concert last Sunday in Astana
In summary, he was being Mr Wonderful, on-stage and off-stage. As always!
Tomorrow, Moscow.
Meanwhile I am getting TASS (Ticket Acquisition Stress Syndrome) or perhaps pre-TASS. I think booking opens in September for Tamerlano at ROH. Jimmy and I are intending to go away on holiday, probably in September. We haven't booked anything yet, for good reasons I won't bore you with here. But I have this vision of booking a lovely remote villa in a remote mountain location without electricity, and being away when booking opens, so having to cycle down mountain passes and fording streams to reach an internet café in some village; an internet café with just one PC, worrying about whether someone will have got to it first, just to check their email or touchbase with their office (both of which could wait). I know I could make a postal application (which would then result in a long anxious wait, not knowing if I was lucky) or could delegate the task. But delegation makes it difficult to make judgements - I'll take that seat because even though it's labelled as restricted view, I know from experience it's only a hand rail. Or I'll take Upper Slips standing on that date and front row of the stalls that date, rather than mid-range seats for both dates! And if there is a Friends' Rehearsal, that would mean two cases of TASS.
So, I'm not just stressing about acquiring the actual tickets but about when 'About the House' will arrive announcing the date for when booking opens. I suspect that is a such an extreme case of TASS it would be very difficult to beat that!
There's a couple of performances of Tamerlano scheduled where Kurt Streit is appearing as Bajazet rather than Plácido. I'm intrigued why; this has been the  plan for a long time (it's been on Kurt's website for well over a year); and there's nothing I can see in Plácido's schedule that would necessitate it.  Maybe ROH wanted a decent cover just in case Plácido decides to call it a day before then; you don't get decent covers without offering them a couple of performances (I don't know whether that means that Plácido is also covering for Kurt).
But I did notice that one of those dates coincides with Katherine Jenkins appearing at 02 (which is a big pop venue in Greenwich, probably better known as the former Millennium Dome). I sincerely hope he is not planning to make a guest appearance, singing A Mother's Wonderment with her. I mean, I wouldn't go even if I could get a decent ticket. And yet I'd be full of resentment that he's appearing in Sarf London, and I'm not there!