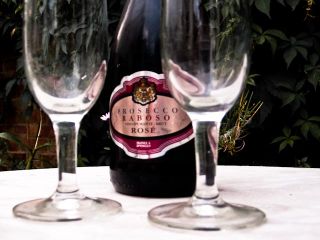 About a month ago, I know, it seems a long time ago, the weather was unbelievably hot. We were pretty clear we didn't want to go out cycling. I thought up several great ideas of places we could go. Actually, in the end, we didn't really go anywhere, other than Marks and Sparks, to get supplies for al fresco dining. There's a whole hilarious story behind my attempt (unsuccessful) to take interesting photos of dinner.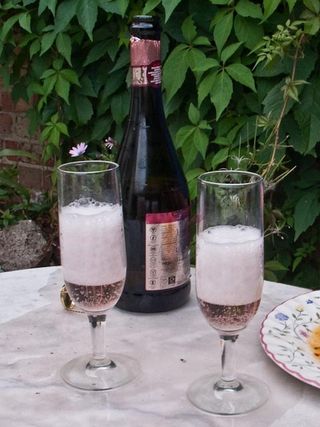 The garden table stands on a slightly raised platform. Jimmy had already warned me not to move my chair backwards, because it was so close to the edge of the platform that I would be sure to topple off. He came out with some pasta and warned me to eat it quickly, before it got cold. At that point, the home phone rang. I ignored it, assuming that anyone ringing at that time would be a cold-caller. I poured the Prosecco and, despite the phone ringing a second time, I decided to take a final photo before eating. I moved back slightly, one chair leg fell off the raised platform, the chair fell backwards, taking me with it.
I tumbled to the ground, sending Jimmy into panic. Despite the phone ringing for a third time, all I could think of was my camera. Miraculously, neither I nor my camera were injured. I decided it was time to eat, refusing to be interrupted by the phone ringing for a fourth time. Once I had finished eating, Jimmy said that it seemed like somebody really wanted to speak to me.
I checked the phone, and discovered that as well as the expected sales call,my brother's number was displayed. So, I called back, it was actually my sister-in-law, who was phoning to say that my mother had been taken to hospital*, so surely thought I was barking mad as I rambled incoherently about multiple phonecalls and falling backwards off my chair (the shock just hit me!)**
Well, after all that, we were determined to go out rather than risk the dangers of staying at home. The following week we went to Regent's Park. Amusingly, that had been one of the suggestions for the stay-at-home day. Amusing, because having decided to stay in, I read Katherine Jenkins tweat from the boating lake at Regent's Park. I am sure we would have headed for the lake, too, knowing the weather. Imagine if I had come face to face, or oar-to-oar, with her on a stagnant municipal pond! Perhaps best all round that we did stay home that day!
But when we did go, we set out in sunshine. The sky looked a bit ominous when we went underground, but when we go to the park, we were convinced that any shower would be light and passing.
There were some advantages in being in a park in July rain
but the attractions soon wore off, and not just for us
All but one elderly woman, who had come prepared with waterprooofs and umbrella, sought shelter under the trees. She continued reading on her bench and looked at us over her spectacles with amused disdain.
The rain showed no signs of easing off, and, in any case, we were soaked, so we cut our losses and made for Chinatown.
Last week we went to Kew Gardens. That was a really nice day out. We couldn't go cycling, because Jimmy felt really rough having been seriously hungover on the Sunday. On reflection he feels sure he was slipped a Mickey Finn on Saturday night, because he was only drinking for two hours, and that was wine, although he had had a skinful on Friday but felt fine, and didn't feel better until midweek.
The weather wasn't hot, but it was warm and dry, with a pleasant breeze. It's not very far from home, but he had never previously been, and I haven't been in about fifteen years.
I won't waste words on trying to describe what was there. Apart form anything else, I took over two hundred photos, and although some are immediate rejects, and many are, ultimately, unexciting, I think that when I have finished editing them, there will be tens to publish.
I possibly could also rant about two families encountered, one at the Gardens and one on the trains, both of whom where the children were so out of control. Maybe another time - there's still another five weeks of the school holidays to go.
I liked the Water Lily House and the Palm house, and really enjoyed walking on the Treetop Walk, but I think my favourite bit was the Dear Dead Diana Conservatory, especially the cacti.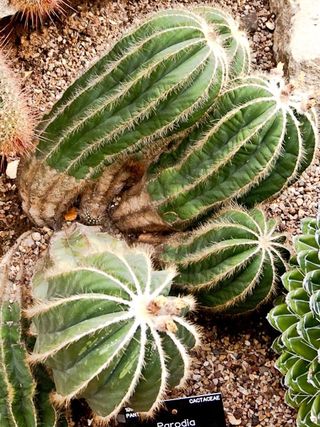 Mother came to visit for the weekend. We went out on Saturday. I expect I shall write a review of As You Like It, but I still have Wuthering Heights, Waiting for Godot and Fairy Queen outstanding! Beforehand we went for a river cruise. Only from Westminster to the Tower and back again, but even there, which I have done several times, I still managed to take over 50 photos. Sigh!
I have to confess we left As You Like It at the interval, having achieved the objective of being inside The Globe. We walked back to London Bridge along the river route. Jimmy wasn't with us, and I tried to convince him I had led my mother through the dark through the mean streets of mean Bankside, under the arches, past The Clink, and a pub called the Mudlark. Mother said 'rubbish, Bankside is the other direction, it was still light, there were lots of people outside Nandos and around the Golden Hinde, Southwark Cathedral looks very nice, and many people were walkign the same route to London Bridge'. I must explore that area in more detail in daylight.
We took her to Euston yesterday. Setting off in the rain, we took our swimming kits with us, but by the time I had put her on her train, the sun was out, so we headed to Regent's Park. We pedaloed for a while - no sign of Warbling Barbie this time. But, as well as being over-dressed and without sunhats and sunglasses, we were also without camera!
Hopefully this coming weekend we will be back on the bikes.
* nothing too serious, well, she thinks it is, unsurprisingly, but it's not any of those scary things that happen to the elderly
** whilst my mother was in hospital my nephew was recalled to A&E for a query on an x-ray he'd had after a standard teenage injury, then my sister-in-law managed to cut her hand in a glass as she prevented it falling on my niece's face and had to have an operation, and later that evening my other niece ended up in A&E.