The main raison d'etre of going was for me to see Cyrano de Bergerac at the Théâtre du Châtelet . Well, let's be honest, to see Plácido Domingo, who happened to be in Cyrano de Bergerac.
(I booked the tickets a very long time ago and booked one for the Friday night, so that it could incorporate a weekend. I also booked one for the Sunday matinee a week later so I could do it as a day trip. It wasn't only a week or so before I left that it dawned on me that there was another performance on the Monday, while we were still in Paris, which I hadn't booked, because I had assumed that we would want to be heading back by Monday).
Jimmy had never been to Paris before and I had been for a few hours only, changing trains on the way back from Geneva. So it was an opportunity to "see" the city. I don't suppose many people approve of our way of doing tourism. But it's our way. I had had it in mind to go Versailles, but considering the heat and it being the height of tourist season etc, I don't regret it. I'm sure an opportunity will arise at some future point.
I am not somebody who spurns and disdains tourism. I think it's pretentious to say that you can somehow get to know a city in a visit of a few days or even a few weeks. Even if I were to move there to live and work, I'd only know the city of a prosperous ex-pat. So I make no apology for whistle-stop tours of the city.
I know that when you're doing a city there are certain things you're supposed to do, like go in the Louvre or climb the Eiffel Tower. We didn't. I actually get very little pleasure from Art Galleries, seeing little point (for me) of staring at pictures. I prefer either live entertainment or experiencing a place, a space and its sensations.
So, we arrived early on the Thursday afternoon. Train travel is such less stress than flight. The Victoria Line strike was the only hitch. If we had been travelling outside the rush hour we could have used the Northern Line, or overland trains from Loughborough Junction or Tulse Hill, but I was a bit anxious about the level of displacement from the Victoria Line, and he didn't want to get a bus in the rush hour. So we got a minicab instead.
It was nice not having to hang around for too long at St Pancras, and nice that the train departed at exactly the time it was supposed to. It was also good not to experience changes in one's body as a result of altitude, nor have to wait for ages at baggage reclaim. Also nice to end up in the centre of the city.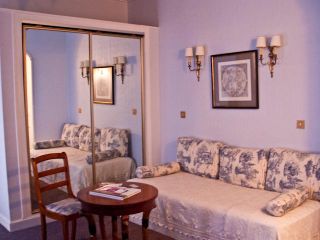 We stayed at the Normandy Hotel having carefully read the reviews on Trip Advisor. It wasn't four star, and we didn't pay four star prices. It was incredibly close to the Louvre. Yes, there was peeling paintwork, noticeably on the outside of the room doors and the windows.
It was clean and it was roomy. The staff were not rude (staff generally aren't, except to rude customers). I thought it had belle époque charm. It wasn't noisy, at all. The air conditioning wasn't great, and one of the windows wouldn't open because of paint, but it was considerably cheaper than any other hotel I could find in the First Arondissement.
It was within walking distance of the Châtelet , although I caught a cab to the performance because of my shoes (which I changed for the walk back!). I would definitely stay there if I was going to the Garnier. We didn't go for the €20 breakfast but there was no need considering the nearby facilities.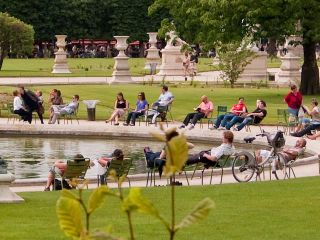 A quick unpack and out. We had an overpriced not very exciting lunch of sorts before walking through the Louvre courtyard, down to the river and into the Tuileries. It seemed very hot and neither of us had brought our sunglasses, which made the white gravel very difficult to deal with. But it was fun to sit and people watch in the park.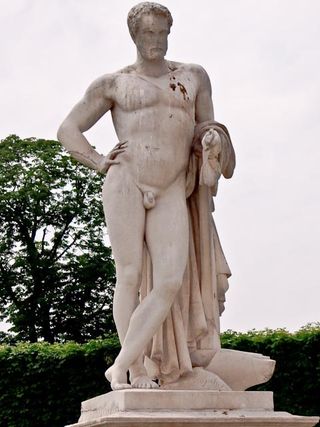 I also took the opportunity to photograph a few naked statues, not realising quite how many I would encounter in the next few days. It's not that I'm obsessed by naked statues or that it's an erotic thing or whatever, but Jimmy doesn't think I missed a single one in Paris.
Later in the evening we went out to eat. We took inspiration from the Lonely Planet Guide and ended up at Le Grand Colbert, a former workers' canteen. The booked warned us not to expect gastronomic miracles.
Nevertheless, I was rather taken aback by the food. For what it was , it was fine. Reasonably good quality, apparently fresh ingredients, warm and friendly service and decent portions. But I was surprised by the absence of imagination, and the lack of finesse in serving. I had white asparagus for starter, and can't remember my main course - it was fish, I think, with a choice of veg or chips. I abandoned my apple sorbet as being too much, too green and too bitter, and its accompanying calvados was rough.
 We went to a nearby bar and chatted for a while with the woman behind the bar. Although originally from South Korea, she is French, but studying English at University (although, because the Universities are on strike, she hasn't been to classes for months).
She instructed me to read Anthony Burgess's translation of Cyrano de Bergerac and also told us to walk up to the Garnier and see it lit up at night - her room mate is a ballet freak. She also advised us to have a look round inside during the daytime, which we never got round to doing (but Mo had told us the same thing when we met her at the Classical Brits, and a colleague had said some years ago it's worth seeing, so I really am a rubbish sight-seeing organiser!).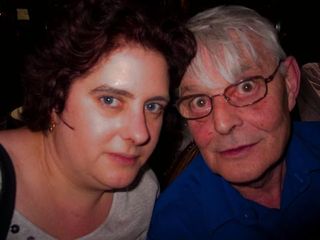 We finished the evening taking advantage of the warmth and the chairs and tables outside café/bars and the wine (actually no cheaper than in England).
I am adding photos to my Paris album on a slow drip-feed basis.