...you can't help feeling it's Vidal she really wants. Especially when the role is as seductively sung as by Spanish opera star Placido Domingo. For all his 67 years, Domingo...is still irresistible.

In terms of sheer musicality and beauty of tone, he can easily outsing any of today's young upstarts... Domingo ... remains in a class of his own, the rich veneer of his tone showing no signs of age.
Für die Partie des Vidal ist Domingo ins hohe Baritonfach gewechselt, was seine stimmliche Intensität verdichtet. Seine virtuose Bravour, mit der er die nicht mehr ganz so hohen Hochtöne schmettert, und seine Eindringlichkeit, mit der er das Publikum auch mit leisen Tönen zu lautem Beifall hinzureißen verstand, sind freilich singuläre Voraussetzungen, die ihm gemeinsam mit der Natürlichkeit seiner Darstellung eine für die Interpretation dieses Genres uneinholbare Pole-Position sichern.
Da allerdings degradiert Plácido Domingo als der ältere Rivale alle anderen beinahe zu Statisten: Mit seiner unverminderten stimmlichen Präsenz, deren solides technisches Fundament ihm einige Spitzentöne von metallischer Strahlkraft ermöglicht; mit seiner ausdrucksstarken Kunst der melodischen Phrasierung; und nicht zuletzt mit seiner – zuweilen geradezu explosiven – Leidenschaft der Darstellung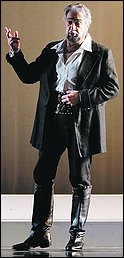 Spanische Vollblutoper
Plácido Domingo begeisterte wie eh und je, und es ist beinahe unglaublich, wie frisch und unverbraucht seine Stimme nach bald 50 Bühnenjahren noch immer klingt. Dazu kam sein unbändiger Gestaltungswille, der jede Note mit echtem Leben erfüllte, vor allem in der großen Romanze im zweiten Akt.