Nonie from Cyprus has left a comment on another post as follows:
I was at last nights Placido Domingo concert at Jerash amphitheater , Jordan .

What an amazing night bless his little cotton socks , he was full of vitality and warmth the audience gave him a standing ovation with his first solo and we all just didn't bother sitting down until the interval he was sparkling !!

With him was a young soprano Ive never heard of before, Monica Yusuf , who is making her Met debut next week apparently.

She was so full of youthful excitement and energy but with such a lovely natural stage personality I wanted to take her home and introduce her to my son...cypriot mamas , sorry we can't help ourselves ...
Oh , and no she only wore 2 gowns the whole night ( the second was purple and she looked gorgeous , I hate pink so it was a relief when she changed ) and guess what ? This kid can sing .
Really sing .

I am a huge fan of Julia Migenes , and she was wonderful . That woman has such a sexy , full of humour sensuality , she's irresistable !

The audience adored Placido ( so what's new ? ) but she set the whole amphitheater alight with her solo's even Maestro Eugene Kohn was ready to pounce on her (??!)

The hottest moments ?

Placido and Julia together , they sizzled and played with each other and when Don Jose murdered Carmen ... again ... we were all devasted that such an intense love could be so totally destructive .

Incredible night .

Nonie from Cyprus.
Thank you, Nonie!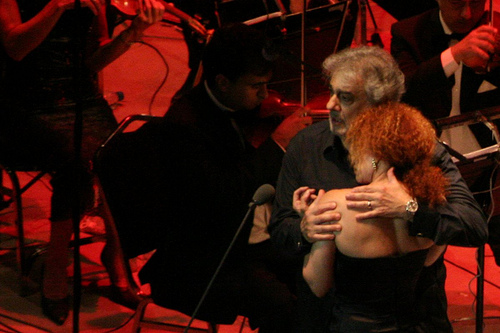 Merkur has some excellent photos from the event (actually, Off-Topic, Merkur has loads of amazing photos that make me yearn for the Middle East).
Meanwhile, over on Our Hero's Official Site, conducting performances have been updated up to the end of February 2009 but as yet Singing Performances are not listed beyond September 15.
From memory, I know there are a couple of concerts in Mexico - Chihuahua and Chichen Itza - in early October, Iphigeneie en Tauride in Valencia in December, New Orleans concert in January, Die Walkure in Los Angeles in April, Die Walkure in New York in April/May, Cyrano de Bergerac in Paris in May, Die Walkure in Valencia in June, a zarzuela concert with Rolando in Madrid in July, and wasn't there supposed to be a Tamerlano in Salzburg? (any omissions my fault...)