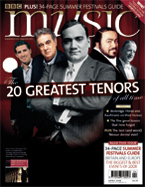 There are far too many people on the internet taking this exercise far too seriously and yet not taking it seriously enough to read the premise or the justification for the choices. Hint, it wasn't a poll on who has sang the loudest in narrow arbitrarily-selected rep at one provincial opera house during one short period of history. And some of those internet people lack the intellect to understand that while they may disagree with the final list, their own choices are no more 'correct'.
What it is is twenty 'experts' (including two token women and a token Minority Ethnic) expressing their subjective views on tenors, of the recorded age, in opera and lieder and taking into consideration factors that some other people would consider irrelevant. It has no statistical justification; a significantly larger electorate would suffer from an injection of the Ignorance Factor. 'Greatest' in Art cannot be definitive; any such attempts are only an aggrandisement or aggregate of "My Favourite".
It would seem from the front cover picture that the "Greatest" is Enrico Caruso, but he only gets second place.
The critics' number one choice written by Michael Tanner, Spectator opera critic
Plácido Domingo was born in Spain, officially in 1941, but many people claim that the date should be a year or more earlier than that. Even if the date he prefers is correct, he has preserved his voice in an extraordinarily energetic career for almost 50 years, having made his debut in 1959 in Mexico, where his family moved when he was eight. He is still singing, including such demanding roles as Siegmund in Wagner's Die Walküre, as well as in carefully selected Italian operas.
During the course of this enormous career he has always looked for new roles to challenge him, and has recorded over a hundred, performing an impressive proportion of these on stage. He begun with the usual Italian operas, primarily Verdi and Puccini, but moved back in time, the earliest of his roles being in Rameau's Hippolyte et Aricie. He has also sung a few contemporary operas, but only ones written in a fairly traditional idiom. What is most surprising is that, almost alone tenors who made their names in Italian opera, since he was about 50 he has been equally involved with German opera, primarily Wagner, some of whose greatest roles he has not risked singing in the theatre, but has recorded in part or whole. He has even sung at the Bayreuth Festival, the ultimate accolade.
Nor has he neglected either French opera, including Berlioz and Massenet, or Russian. And now he is moving into the baritone repertoire, with Gluck's Oreste already at the Met. A self-confessed workaholic, he also conducts opera, and is in charge of the Washington National Opera and the Los Angeles Opera, jobs which involve an immense amount of fund-raising. Quite apart from that, he was of course one of the Three Tenors, and has recorded Christmas albums and discs of popular Italian and Spanish songs.
With such a vast range of repertoire, it isn't surprising that we don't associate Domingo with particular roles, with the possible exception of Verdi's Otello, of which he has been the leading performer since Jon Vickers, Domingo's antithesis in many ways, retired. But even then, when one thinks of that role and the kind of voice and presence it requires, Domingo's isn't necessarily the first name to come to mind. It's inevitable that he has been criticised for giving a standardised account of many roles - but then it's hard to see how individual you could be in many of Verdi's less famous works. The fact remains that when you listen to Domingo, you are guaranteed a flood of gorgeous sound, a sensitive musicianship, the security of voice so well looked after that nothing will go wrong and, if you are seeing him, a decent standard of acting.
Warmth, taste, commitment, understanding: these aren't the first things that spring to mind when you think of a tenor, but they are when you think of Domingo. The operatic scene since the mid 1960s is inconceivable without him, and the gigantic treasury of opera recordings will bear witness to future generations of his greatness. In an age when 'celebrity' has rightly become a word of contempt, Plácido Domingo's fame is an example of how once, a huge name was built on solid foundations.
In his own words
'My motto is "When I rest, I rust".'
Greatest Recording
Verdi: Otello