I seem to have accumulated links and photos in various parts of my computer that I really ought to have been blogging.
So here goes:
Plácido Domingo hizo todas las obras que soñó - he confirms that he intends to continue singing for some years more, although he has done all the roles he dreamed of doing but obviously there wasn't much Baroque around when he started off, requiring a change of career direction and a reassessment of dreams?
Report on a Big Screen Madama Butterfly in Madrid, conducted by Plácido: Miles de personas comparten con el Real una vibrante 'Madama Butterfly', although actually just a review of Madam Butterfly
The World's Greatest Singer gives an interview about...conducting - No creo en la tiranía del director de orquesta - somehow, I can't imagine him as a tyrannical conductor.
A great headline El irresistible carisma de Plácido Domingo
There's going to be a statue of him in Mexico City - Domingo inaugurará estatua con su imagen, because he is a great artist, a great singer and a great human being. More details Plácido Domingo, en bronce
No comment on this...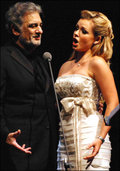 Update: A future appearance on The Simpsons
Homer becomes an opera star, and he has these groupies who are these middle-aged matrons that chase him around and Marge is really jealous.
Middle aged matrons? Oh, they're after Homer!