Stowting is from the  Anglo-Saxon meaning 'place with a mound'. It lies close to the Roman Road, Stone Street and is traversed by the Pilgrim's Way and the North Downs Way footpath. It lies in the Kent Downs AONB (Area of Outstanding Natural Beauty)
In 1947, a BOAC Douglas C-47 crashed on the village while attempting to land at Lympne airport, killing 8 out of 16 people on board.
The 17th Century pub was saved from extinction by a syndicate of locals, It has changed hands since our visit so little point in reviewing the place as such. It came with excellent reviews, not just online but also from 'real' people. I thoroughly enjoyed my seafood platter but Jimmy was unimpressed by his roast beef and roast potatoes. It has to be said that "Jimmy's Law" is to receive below average food from normally excellent places. One such place even received a Michelin star a few months after his disappointment!
It's in a lovely location, although remote - the final stage of the journey being along a single track road. 
I liked the decor inside, although it seemed gloomy, especially on a gloriously hot September day that had started with several swims in the English Channel.
I started with an anti pasta board and moved onto a seafood platter, both of which met or exceeded my expectations. The latter platter consisted of: 
breaded king prawns
deep fried salt and pepper squid
tempura prawns
smoked salmon
mini crayfish cocktail
mackerel pate
sweet chilli sauce
tartare sauce
bread
Nice water feature outside, too.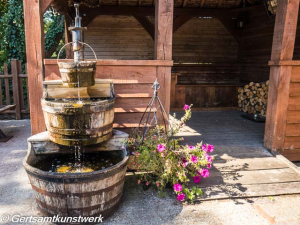 On the way back, we paused at Farthing Common to admire the views