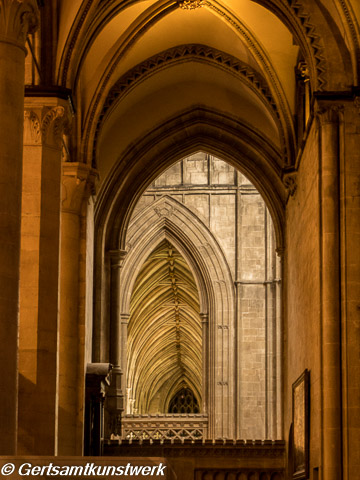 I needed to print some important documents but my own printer was irretrievable from a self storage unit. The nearest place I could get the printing done was in Canterbury. I thought it would be quite weird to go to Canterbury and just go to Ryman's, so I also went to the cathedral.
Now, if I were a proper old school blogger, I would provide lots of links explaining the history of Canterbury Cathedral. But times have changed, and given that it's the Mother Church of the Worldwide Anglican Communion, part of a World Heritage site and so on, there's plenty of information readily available for anyone who wants to find out more.
Key facts: it is the seat of the Archbishop of Canterbury, clerical leader of the Church of England (also known as Anglican, Episcopal, etc). Direct from Wikipedia Founded in 597, the cathedral was completely rebuilt between 1070 and 1077. The east end was greatly enlarged at the beginning of the 12th century, and largely rebuilt in the Gothic style following a fire in 1174, with significant eastward extensions to accommodate the flow of pilgrims visiting the shrine of Thomas Becket, the archbishop who was murdered in the cathedral in 1170. The Norman nave and transepts survived until the late 14th century, when they were demolished to make way for the present structures.
The Canterbury Journey is a restoration project taking place between 2016 and 2021, so, when we visited, much of the exterior of the building was hidden behind scaffolding. I assume this will have cleared for the culmination of the Becket 2020 commemorations.
Most of the rest of this post consists of photos I took when I was there. It's interesting walking round, a very impressive space.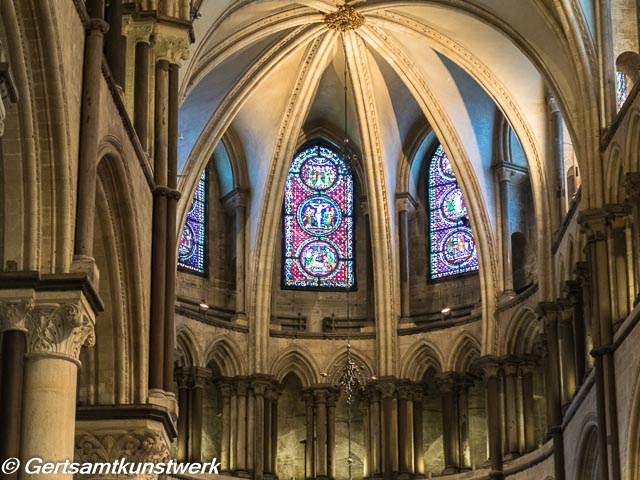 As I was walking round I saw numerous memorials to goodness knows how many former ABCs, Deans, Canons and whatnots, but no memorials to the countless nameless workmen (probably all men, but would we know if they included women?) whose art and craft made the cathedral what it was. An interesting thought occurred to me - these various ABCs, they may have their names written down but they left no legacy. I've only heard of about half a dozen pre-20C ABCs. Yet these common men, whose names are forgotten, who never mattered to the society they lived in and worked for, they have left a very clear and really quite beautiful legacy. There's probably a moral in that somewhere! 
Interspersed with the permanent artworks are some temporary exhibits from an Exhibition called "Under an Equal Sky", marking the centenary of the Great War Armistice. I really liked them and found them fitting to the setting but I did overhear snippets of conversation from people moaning that they didn't understand them. Which only goes to show you can't please everyone, and at least it wasn't a Crazy Golf Course.
It's worthwhile visiting the entire cathedral, but especially for the stained glass windows which are stunning, and quite unlike any I have seen before.
The story of Thomas a Becket is fascinating. I don't know how well known it is outside Kent, although I know a little bit from way back when in my youth. I have seen TS Eliot's Murder in the Cathedral twice, once at my future secondary school and once at Nottingham Cathedral when I was a stude. My classmates who did English Lit A-Level, did some of Chaucer's Canterbury Tales. Some of my fleeting contact with Southwark reminded me of its existence. I have never read it; I think the thought of reading what would be, in effect, a foreign language, is too daunting. It has been filmed and televised, but I haven't seen it.
Anyway, my point is that in mediaeval times people travelled in large numbers to visit the shrine of Thomas Beckett. I am woefully uninformed about the Middle Ages but have a sense of a largely illiterate population who didn't travel beyond their nearest market town or Assizes. I'm beginning to learn that society was more complex than that; nevertheless I find it quite mind boggling to think of people walking all those miles, taking days, or longer, staying at inns along the way. Perhaps I should read the Canterbury Tales, in order to get a better sense of what life was like. Or perhaps I should go first to the Canterbury Tales Visitor Attraction