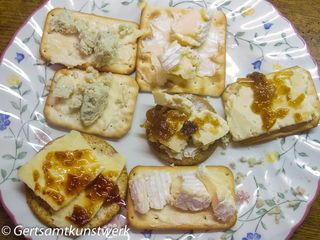 Ah, the unavoidable celebration of an arbitrary change in the date.
I don't remember New Year's Eve being that big a thing in my Youth. Another tedious occasion where the media and advertising demand that we enjoy ourselves, an order that almost compels me to be miserable. Along with Valentine's Day and Hallowe'en, it classes as the most meaningless and forced 'celebration'.
The middle of winter is not the time to make resolutions or to start anew. It's a shameless and ignorant disregard for nature, the seasons and the world around us. I would go so far as to say morally abhorrent - let's not tune into the natural pattern of events but instead invent a celebration. According to Wikipedia, in England before 1752, the first day of the year was Lady Day, a Christian takeover of the sensible New Year's Day, the Spring Equinox. I'm sure I read somewhere that Cromwell and the Puritans encouraged celebrating New Year rather than Christmas, because Christmas was essentially Pagan. Elsewhere I have read that 1 January was a Roman feast.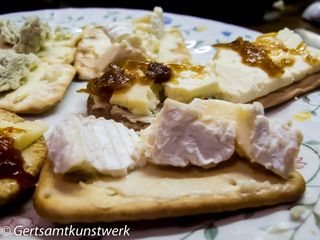 I don't know what I hate more about New Year's Eve, the fact that men you hardly know, some of them quite repulsive and many of them smelly, think they have permission to touch, hug and kiss me. No, get lost you loathsome creature. Hands off my body, or I'll do you for assault.
Or the fact that the BBC seem to think that there is no higher achievement in life than standing for several hours in the cold, a long way from a decent toilet, and even getting some sad delusional halfwit to say to camera 'it's the best thing I've experienced in my life' whilst clearly being on the edge of an episode. Seriously, your lifetime's achievements, joy and fun boil down to 10 minutes of filming a firework display on your unfit-for-purpose applephone? Imagine if she was at Brockwell Park for the entire 23 minutes on Bonfire Night. She'd need sectioning. Or maybe she thinks that advertising and hype are the equivalent of sage advice from a role model.
One can ignore New Year's Eve as a 'celebration', as many people sensibly do. Unlike Valentine's and Hallowe'en, I find this difficult, so in recent years have decided to salvage something, for example, early sitting in a good restaurant. We chose well this year and the food only cost £5 per head more than we were charged in a pub two years ago. On the other hand, dinner was half as much again as it would be at the same Michelin star restaurant, Chez Bruce. 
Ultimately, it's dinner, and that's it. In itself, very pleasing, but in terms of excitement, it hardly matches up to a concert by a favourite singer, or a Cup Final, let alone anything you might do yourself, from great sex to sky-diving to passing exams. Perhaps these people who make a big deal out of New Year's Eve don't enjoy music, sex or personal accomplishments.
There is the need for careful food planning throughout the day. You mustn't eat too much, or too late in the day as to ruin your appetite. But you mustn't arrive at the restaurant with an empty stomach in case the opening glass of champagne goes straight to your head.
The restaurant was tastefully and delightfully decorated when we arrived. For each customer a hat - top hats for gentlemen and feather boas for ladies. I have a vague recollection that they asked the gender make-up of the party when I booked. This is an example of 'everyday sexism' that I am entirely relaxed about. I did see one woman wearing a top hat, and I'm sure the restaurant would have indulged any other gender-bending requests. Most people wore their hats for at least part of the evening, except for one table - middle aged couple with teenage son. They not only didn't wear them but they moved them well out of sight. I sort of sympathise, hating the pre-Christmas office party tradition that you cannot possibly be enjoying yourself unless you have a cheap ill-fitting paper crown on your head. But these hats were of a higher quality - I later found a couple of top models to pose in them!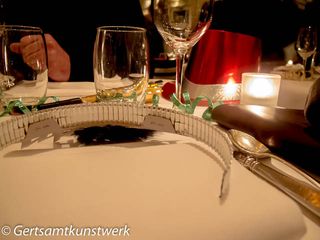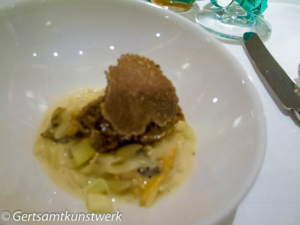 With our opening glass of champagne, we had Creamed orzo with cèpe duxelle, parmesan and truffle.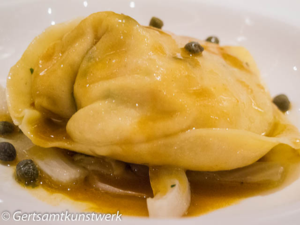 We followed this with Lobster ravioli with scallops, warm bisque vinaigrette, basil and capers. 
For the main course, Jimmy had Breast and ballotine of guinea fowl with roast foie gras, périgord sauce and chanterelles while I opted for Roast sea bass with champagne velouté, fennel, gnocchi and caviar.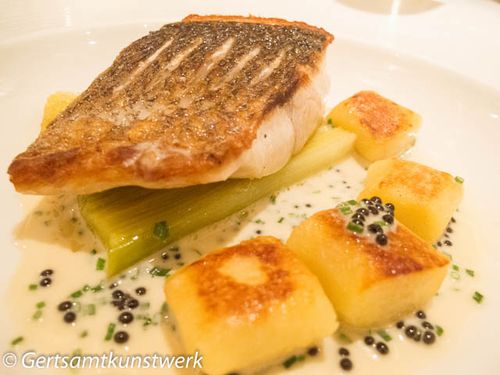 We paused for a while before pudding.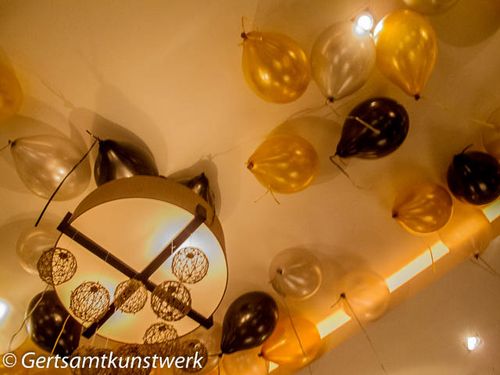 I'd barely drunk half a bottle of Cabernet Sauvignon (on top of the champagne) but I was quite squiffy. Perhaps too squiffy to give photographic justice to a sumptuous Bitter chocolate tart with salted caramel and honeycomb, so I finished with a pot of tea.
Back home by half nine with no mishaps and only one forced hug from a drunk acquaintance who forced my head into his vile-smelling coat and squeezed my stomach nearly ruining my entire evening, under some delusion that women's bodies are men's playthings. Ugh.
 I also got an insight into human nature. We wore our silly hats on the train home (so this observation is balanced on a knife edge!) and total strangers greeted us like mates, finding common purpose because we were all celebrating New Years Eve. Is it a yearning for a sense of Common Purpose? Is it an inability to understand how many people exist and how common some behaviours are? Is it a feeling of relief that someone else is doing the same thing, endorsement of their own intentions? Very odd! Like football fans on a midweek evening who pass through Brixton or Clapham Common stations shouting (in effect) "We've been on a night out! We've been on a night out! You haven't! You haven't!" despite most other people being on their way home from theatre, dinner or drinking.