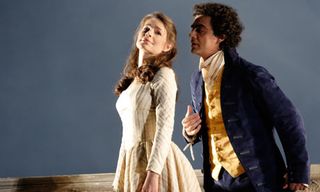 I don't rate Werther as an opera. I find its tale of unrequited love to be quite dreary. Perhaps the original story by Goethe is more edifying, but, frankly, dear reader, my life is already ebbing away*; no need to waste it reading stuff to find out!
Werther illustrates why La Traviata is a great opera. A simple narrative of love found, lost and found again, but too late, shines a light of human nature: bourgeois so-called morality of Germont père, the weak immaturity of Alfredo, and the generosity of Violetta. The main characters are convincing, and likeable, even  the men, despite their flaws. The music moves me emotionally; I never find it contrived; and afterwards, it's easy to hum a half-remembered phrase.
Werther is a story of a self-centred two-dimensional character who pines for a cardboard cut-out; the work never examines any contradictions, never even asks how Charlotte feels at being cast as the girl who blindly obeys her mother's dying wish, never considers the risk he poses to her respectability (and thus viability); the music contains some clunking climaxes that are suppose to signify heightened emotions , but just seem like sub-Hollywood schmaltz. A poor imitation of Eugene Onegin.
So, the Royal Opera House this season. I have enjoyed The Pearl Fishers, a ghastly opera with a fine cast in concert; I walked out of Adriana Lecouvreur, bereft of  its diva, with a subdued off-form tenor and utterly pointless in the annals of human history; I loved the mainly static and dull production of Tannhauser, a great opera with a superb cast; I endured the crass forgettable Anna Nicole with its, again, superb cast and amazing staging.
And Werther, a fourth rate opera with a pleasant but un-thought-provoking staging. And an excellent cast.
Let's be honest, my main reason for booking this was for Rolando Villazón. I kept the faith and I booked a Balcony Seat for opening night. I was alarmed at scurrilous rumours that he had already cancelled months ago, and I delighted at reports from the Royal Opera House that he was in rehearsal and he was sounding great. But still, I did worry. I even got confused when applause broke out at 7.30 and I couldn't see the Cancellation Lady walk on stage; it took me a moment or two to realise that we were welcoming Tony Pappano into the orchestral pit.
So Werther: nicely pleasantly enjoyable without moving me at all, either musically or dramatically. Nothing to fire my imagination or make me ponder deep things.
Audun Iversen and Eri Nakamura were aurally pleasant as Albert and Sophie. Albert played as a suitably forgettable decent but dull chap; Sophie as a slightly irritating but inconsequential perky type.
Sophie Koch sang gloriously as Charlotte. Her voice doesn't create a visceral reaction in me, but it was uniformly pleasant, often quite gorgeous in its richness and reliable.
And Rolando, lovely Rolando! In conversation with one of my friends from the internet, I was shocked to realise that it is seven years since I first heard, and adored, Rolando in Les Contes d'Hoffmann. We're both a lot older and have been through a few things since. Some of them even 'together'!
It seems wrong to focus on all the things that vocally he wasn't. He wasn't pushing his voice, he wasn't straining, and, as I remarked euphemistically to several people, his voice hasn't got any bigger. I was sat in an acoustically sweet spot, but wonder how well I would have heard him in a less fortuitous seat. He was fine when the orchestra was subdued, but when the orchestra pumped up into one of those schmaltzy climaxes, he was noticeably not soaring above it.
I have often stated that I am not interested in the size of a voice. Indeed, some big voiced singers are monoliths, unable to vary the volume and colour, and bellowing because they can't place their voice.
Rolando has a deliciously sweet voice, with some steel in it. And most of all, he is a committed and convincing performer, almost making think that Werther was a complex character with actual feelings for Sophie his supposed love-object, rather than just for his own ego. From the first moment he appeared, during the overture, to his dying gasps, he was the tortured poet. Not a particularly likeable tortured poet, but a believable character. He projected anguish, and, by Act III was singing more comfortably.
I went to the Stage Door afterwards, but a messenger relayed the unsurprising news that there was a First Night Party and if anyone was going to appear it would be much later. I was tempted to wait, on the off-chance, because it would not have surprised me if Rolando did appear later, but I decided it was wiser to head home.
* calm down; just relatively speaking!