I went to see this last week but for some reason haven't got round to writing it up yet. It's not as though my life is filled with excitement and busy-ness!
I was amused to see a comment, I think it was on Facebook. Someone said they were going, and someone else commented "Enjoy, I saw this and really enjoyed it!"
I thought that that's a bit of a daft statement. There are lots of reasons not to like a Handel opera: some of them can be about oneself - if you're not well, or have a lot on your mind, it can be difficult to sit back and relax. A singer in a key role can really let you down. I don't just mean dull, I mean aurally painful.
But, unlike many other composers - Verdi, Wagner, Mozart, Donizetti - I am not aware of people who like *some* Handel operas and dislike others.
In fairness to the person who left the comment, she actually said she had seen it in Santa Fe, and this production was a co-production with the SFO, so it wasn't a random comment. With Handel operas, the production can make a big contribution to one's enjoyment of the work. I do like the directors that 'get' it, that understand that there is so much scope for invention in creating a staging of the operas. The stories are so lame and the characters so incomplete that a good director can work marvels.
I had absolutelky loved Christopher Alden's Partenope a couple of years back - this demonstrated how much the director can play fast and loose with the actual story and yet retain a coherence with the plot. And I'd liked David Alden's Lucia di Lammermoor (they're twin brothers), so I might as well say that I was dreadfully disappointed with the production.
It was really quite dull, nothing much happened at all. It was basically a wallcovering fetishist's paradise, but not a lot there for those of us who are indifferent to wall-coverings.
The first act was papered in William Morris's Thistle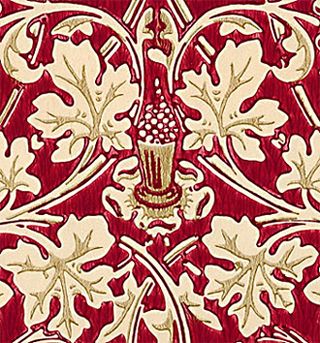 In the second act, the wallpaper reminded me of News from Nowhere, but as I can find no images online, I'm none the wiser, The final act was papered in silver foil. I shrugged.
In lieu of scenery there was a curved wall across the stage. What can I say, it was a wall. It was boring. To make matters worse, the lighting was appalling. Perhaps it was an apposite comment on the Comprehensive Spending Review and Arts cuts (echoed by the reduction in the quality of loo paper and hand towels in the Ladies), but whatever the reason, it was very difficult to see what was happening on stage. I suspect that I didn't miss much action. Maybe it looked really good from the stalls, but most of the audience doesn't sit in the stalls. Oh dear. There were also some wooden and stuffed big-game animals, which was all a bit perplexing because it was, supposedly, set in Armenia, and it's news to me that elephants and tigers roam free in Armenia.
I haven't a clue what the opera was about, and frankly, I'm not really bothered. Anyone who goes to a Handel opera in the hopes of finding insightful social commentary anywhere outside the stage lighting scheme is on a fool's errand. Something happened, and then something else, which led to another thing, then someone was in disguise, and someone else arrived in a rolled up carpet. But there wasn't any dancing or fun like that. And it was probably the first time I have encountered cultural reference to Armenia since Swallows and Amazons.
So it's a good thing that there were some jolly fine singing. I simply cannot imagine going to a Handel opera and not enjoying the music. But it can be ruined by dodgy singing, and I've certainly experienced that on occasion.
Fortunately, ENO once again managed to assemble a fine ensemble of Handel singers. Ryan McKinny (bass-baritone) as Tiridate, Sophie Bevan (soprano) as Polissena, Ailish Tynan (soprano) as Tigrane and Henry Waddington (bass) were all good enough.
I may have noticed flaws here and there but not enough to detract from my enjoyment. I found Ryan's voice to be interesting - I would like to hear him in a more interesting role, because I suspect there is quite some beauty there which wasn't really given the opportunity to shine.
I've heard Sophie Bevan sound better and I'm sure I will again. At times, Ailish Tynan sounded a bit shrill. But let me emphasise, I'm just noting these things as an alternative to writing "It was all very nice" or "Quite splendid!", the sort of empty inane comment one overhears far too often.
The two leads really were quite splendid, though. I am not a counter-tenor fan, on the whole, but it seems that there is a second counter-tenor that doesn't lead me to stick my fingers in my ears or alternatively fall asleep in boredom. Lawrence Zazzo was lovely as Radamisto. I'd definitely love to hear him again. Nice voice, with all the sweetness one expects from a decent c-t, and lots of colour and heft, too. Seemed to move well around stage.
I particularly liked Christine Rice as Zenobia. Her voice seems to get richer and richer every time I hear it, and she always seems such a natural on stage.
I didn't actually know any of the numbers sung, although nothing in the music sounded unfamiliar.
The orchestra under Laurence Cummings gave a fine performance, as can be expected from the ENO playing Handel.
Altogether a pleasant evening, and certainly worth the £20 plus booking fee I paid for my ticket in the Upper Circle (reduced from £49)*. But, at the end of the day, I never come away from Handel feeling that I have learnt anything of the human condition, nor am I ever moved beyond words by the music. I love his works, but don't really know why. Bring on the next one - which is currently planned as Tamerlano in Barca, but maybe others will crop up before then!
*I took advantage of an offer in Metro. There were better offers available, and I am pretty sure that throughout this season there will be some very good ticket offers available at both opera houses.
I see it as a games of brinksmanship: how desperately do you want to see the opera and how long do you have the nerve to hang on in the hopes of getting a really good deal. If you really want to see something, and especially if you suspect that it will be popular, you have to book when it opens. Otherwise, I forecast great opportunities for lots of great opera on the cheap!