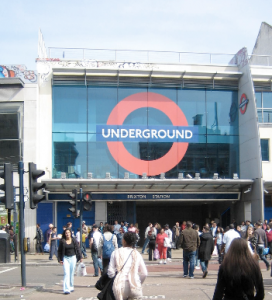 When you live in a crowded city, an essential life skill is the ability to negotiate crowded places. During the rush hour in London, it is remarkable how well most people manage to get smoothly from A to B without impeding the ability of others to do similarly.
I also have this belief in life which can be summarised as 'steam gives way to sail'. In other words, make way for the weaker, whether they be physically frailer or merely impeded by luggage, pushchair etc.
On Wednesday morning, I used the busy pelican crossing outside the busy Brixton underground station. I felt someone next to me, trying to edge me out of the way. I refused to give way, because there was nothing impeding her ability to walk straight ahead. Because I didn't stop to let her continue her diagonal walk - across a busy pelican - she decided to cross in front of me anyway, putting her sling-backed foot precisely where my booted foot was descending.
Oh damn, my DM boot scraped the back of her ankle. She turned round; I suggested she walked in a straight line. She then said "It's not your fault, it's not your fault".
You cannot imagine how this irritated me. It was pretty patronising. I knew it wasn't my fault, I had made no attempt to apologise. It had never crossed my mind it was my fault. And I told her: "I know it's not my bloody fault. Walk straight across the road". I even used my hands to indicate straight. I thought - I know your type: you see some overweight middle-aged woman, quite possibly limping, and you think 'Weak! Pushover!" Maybe I'm paranoid, but I really couldn't imagine she'd have tried that with a 6'2" muscular youngish black man. So why me?
I head into the station and realise I'm walking directly at a 30-something man walking in the opposite direction. He realises at precisely the same time. We both edge to our respective lefts, pass closely, not too close, and exchange a small smile of acknowledgement. Neither of us has broken our stride, we've accorded each other respect. It's actually very normal!
I get down to the platform, busy but not crowded. The train is full enough to be nearly ready to go; the next train is already in the other platform*; the platform is not yet clear of people who have arrived. A man appears at my right shoulder and tries to shove me aside (not violent, not an assault, but a jostle for position). I push him back, he turns and glares at me.
One of those days, I think.
He walks into someone coming from the opposite direction,  effecting a shoulder barge, and is glared at. He crosses the path of someone who has to break her stride and stop, to avoid bumping into him. He looked respectable, fit, strong. What gives him the right to impede other's passage so that he gets this Victoria Line train, rather than the next one that will leave in, ooh, 90 seconds.
I walk down the edge of the platform and as I approach the door to my favoured carriage, a man crosses in front of me. He clearly hasn't looked, he has no idea that I'm there, it hasn't crossed his mind he may not be alone. Again my foot comes down precisely where his has landed. He scowls at me.
I I did have a serious think: is it me - three incidents in such a short space of time? I examined the sequence of events and analysed what I did and what I could alternatively have done. I concluded my only alternative choice of action would have been to stop, defer, make way, surrender, be bullied by people younger, fitter and stronger than me. And I won't stand for it. I crafted a battle cry "My only crime is to grow old!"
Then I remembered, I'm not halfway through my expected lifespan yet.  I did amuse myself by thinking: I bet the statistics dictate that at least one of those people will succumb prematurely or suddenly to some accident or illness that makes them weak, at the mercy of the kindness of strangers. And one day, someone strong will bully them to move out of the way - and they'll probably yield, because they know no better!
* end of the line station, with two platforms, train go into alternate platforms, all trains are northbound, if you miss one, you cross over to the other platform