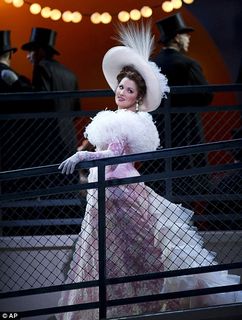 Selected tweets from 1 July 2010
19:53 #manon God, the music is dire, the story is dragging (Puccini'd have them halfway to New Orleans by now).
19:55 #manon Anna Netrebko & @VittorioGrigolo sound absoutely gorgeous. I'd rather they be singing the Argos catalogue, though.
19:56 #manon The scenery's quite nice. I guess they'd applaud it in lesser venues. 
21:20 Now, that's a lot better - Cours de la Reine & St. Sulpice are chocca with gorgeous music and two lovely (ie familiar!) arias #manon
22:49 I really enjoyed #manon. Would love to hear it again, with or without interpolated aria de catalogue d'Argos.
These tend to sum up how I felt at the time. I am not a big fan of Massenet:I'm surprised I have a category on the blog - albeit spelt wrong (oops!) - because I didn't think I cared for him.
I booked for this because of vague reasons. One, being that I might as well over-do the fabulous ROH season finale in its entirety. Another being that I have heard this work two or three times and didn't actively dislike it. And it had Anna Netrebko in it. I'm not a huge fan, but, whatever. It was supposed to have Rolando Villazón in it, although he withdrew long before the tickets went on sale, to be replaced by Vittorio Grigolo. So, a mish-mash of reasons, none of them strong enough to make this essential, but no reason to stay away.
This was on the Thursday when I had already been to Simon Boccanegra and the Brixton Labour Leadership Hustings...crikey, I know how to have a good time, one night Plácido Domingo, the next Ed Balls... Also, it was a ridiculously early curtain, which meant me leaving work earlier than usual. And the reason for me not writing a timely blogpost - the next night I was out again, to Simon Boccanegra.
I oughtn't to have been in the right frame of mind to enjoy an opera I barely knew. One I barely knew because it had failed to seize me on the few but several occasions I had attempted it. I only really know the story from Puccini's version, Manon Lescaut.
I found Acts 1 and 2, those before the first interval, to be dire beyond belief. I was disengaged from the story and cared little for the music. The music sounded nice but only if you like a huge gollop of over-Romantic strings (and stuff). I considered going at the interval, but persuaded myself to stay. There would be another interval, which would be my opportunity to escape and salvage something from the evening. In the interim I would listen to the glorious sounds coming from Anna Netrebko and Vittorio Grigolo, and look at, and silently applaud, the scenery.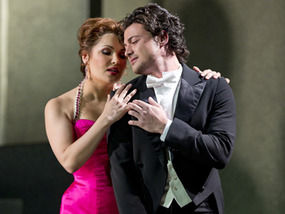 At this distance it is impossible fully to capture the lack of interest and  ennui that came over me in Act I. It compared so poorly to Puccini's take on the same story - I'm a bit weird, I care little for Butterfly, Boheme and Turandot, but give me a Manon Lescaut, a Fanciulla del West and of, course, Tosca, and I'm a big Puccini fan! I didn't care about the characters, I didn't care how the story played out. And I only decided to stay because Anna Netrebko and Vittorio Grigolo were sounding so gorgeous.
The eagle-eyed reader will have noticed that I don't go gaga over sopranos, or female opera/classical singers in general, but I guess Anna Netrebko is one that I favour above most others, although with reservations.
I feel a slight proprietorial claim on Vittorio Grigolo. About five years ago, he released an album of forgettable crooned dated pop-style songs that did exceptionally well in the commercial pop charts. This caused me and many others to assume that he was a poor man's Bocelli. In May 2006 I attended the Classical Brits which turned out to be a feast of tenors. Plácido Domingo, Rolando Villazón...and Vittorio Grigolo. Vittorio sang Maria from West Side Story and Una furtiva lagrima, and even given the electronic amplification/distortion, it was pretty clear that he was for real.
For a couple of years subsequently, his name popped up occasionally on English language news groups, and the consensus seemed to be 'he's another over-marketed crossover singer'. Later 'what's that over-marketed crossover singer doing singing in  opera houses in America'? When I could, I described my experience, and pointed to his CV, a good set of large roles in small houses and small roles in large houses - probably a good grounding for someone who is now 33. Gradually people began to realise that he should be taken seriously as a bona fide opera singer.
This was my first time hearing him actually in an opera and without the distortion of amplification, and he didn't disappoint vocally.I found his voice to be clear and sweet. Perhaps open to accusations of loud, and not very subtle. Good pitch and tone, often beautiful. Not outstanding as an actor, but I've seen worse. Let's be honest, I'd seen worse just that in week (and no, I don't mean Ed Balls**). I was just reading over some professional reviews, one highlighting that this was house debut. I would definitely agree it was an outstanding house debut. He seems to have chosen his roles carefully, and I look forward to many more appearances.
I returned to my seat for the second part of the opera, for Act 3, at the races and the St Sulpice scene. And suddenly, it happened I was bowled over. Everything seemed to come together in a melange of gorgeousness. A truly lovely set and reasonably intelligent direction, which led to it being a memorable production. Anna Netrebko was stunning, managing to portray an understated brittle vulnerability - Manon was behaving like a 'good-time girl' but it was surface show. And the music - just lovely. It's too long ago to pretend to remember the precise phrases that got to me, all of it held together by the notable arias Je marche sur tous les chemins (Manon) and Ah! Fuyez, douce image (Des Grieux).
Overall, it was a lovely evening. Arena Pal and their web-hosts have failed to have a Disaster Recovery Plan (which doesn't impress this auditor one bit) but assuming they manage to get their act together, I daresay they'll have loads of watermarked pictures. Meantime Intermezzo has sufficient to convey the gorgeousness of the design and of Anna and Vittorio.
There were other members of the cast, all of whom were at least adequate and many were better than. But I think, really, it's a vehicle for the soprano and tenor. I did wonder whether I would go again? I decided that it would depend very much on who was in these roles. Both would have to be vocally hot and to my taste; it could end up being a bit disastrous with one or the other being unpalatable. And it's definitely worth seeing for the production.
As for the opera, I think it probably deserve its place in a lower drawer of the repertoire. It has some splendid numbers, but they are rather held together by long passages of saccharine 19th Century string-heavy schmaltz. This and the Puccini counterpart shine a light on the corruption of 18th century society mores, but this one in particular (and I don't exempt Puccini) treat it all as if it's a bit of a hoot.
Manon is made to look trivial and capricious; the far more interesting story would be about how she schemed and fought to escape to be free. I expect it's supposed to be a morality story - woman gets uppity and then dies - but I admire Manon for her spirit and for trying.
One thing that does linger is how utterly unintelligible both leads were. Even with the surtitles, and knowing some of the arias, and being able to understand spoken French (up to a point...) I failed to detect more than the odd word. This has to be noted as a minus point, but shouldn't ultimately detract from their gorgeousness.
*Interestingly, most of my favourite pop singers are women, and that is very much the case when I'm considering voice alone. I like the songs and performance by male artists as diverse as Billy Bragg and Adam Ant, but when it comes to wallowing in vocal gorgeousness give me kd lang or Dolores O'Riordan anytime
** For avoidance of misunderstanding, I don't dislike Ed Balls, and think he will be a brilliant Shadow Chancellor, job-share or otherwise. I just like making cheap, irrelevant jokes)