Update: For some inexplicable* reason I forgot to include this review from the Independent:
The Proms Opening Weekend, Royal Albert Hall, London: Big is beautiful as the Proms set sail on a wave of grandeur from Mahler, Wagner and Verdi
With his career now into its fifth decade, Plácido Domingo leapt on to the stage during the prologue of Simon Boccanegra in a full, dark wig that made the audience do a double-take; as the pre-Doge, pirate Simon, a quarter-century before the main action of Verdi's opera takes place, it was hard to believe this energetic baritone was the 69-year-old legend. But the voice was the voice: still there in all its richness, emotion, intelligence and power. Supported by a stellar cast this performance was even more alive than the Wagner, and those of us fortunate enough to be in the Royal Albert Hall for this magical evening will never forget it.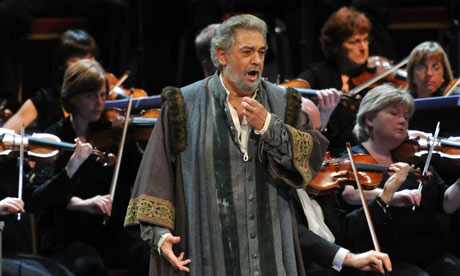 Domingo's presence drew the entire Royal Albert Hall into the drama - Telegraph
...great moments of truth, and ones where Domingo's presence drew the entire Royal Albert Hall audience into the drama, aided by the rich bass of Ferruccio Furlanetto as Fiesco, and abetted by the idiomatic and far-sighted conducting of Antonio Pappano.

Pappano's conducting, the Royal Opera Orchestra at its most euphonious, Elijah Moshinsky's direction of the semi-staged action, and above all Domingo's complete identification with the doomed hero, together presented a compelling realisation of this drama.

Prom 3: Simon Boccanegra - Guardian
....his artistry is utterly compelling. His feelings are released in high pianissimos that are simply heart-stopping. Later on, when he harangues his council, we're conscious of accomplished rhetoric and emotional sincerity jostling within his mind.

Yet Domingo's voice is now a low tenor rather than a genuine baritone...Low notes can be gravelly where we expect warmth. Most notably, there are losses in heft in some of the ensembles.

As a totality, however, the evening was often magnificent...

A mighty start to the Proms season - Evening Standard
Domingo's putative baritone remains very much the instrument universally known and admired but down a notch or two. It's not the kind of voice one expects in this role but Domingo has made a long career defying expectation and there's no denying that he delivers a terrific performance.
Unforgettable Verdi at the Proms: Domingo excels in a semi-staged Simon Boccanegra at the Royal Albert Hall  - Gramophone
the final plaudits have to be reserved for Domingo. Perhaps he saved his best for last. Whatever the case, he treated a rapt, packed Proms audience to one of the great portrayals of one of opera's more interesting heroes. The timbre of the voice does not have that baritonal bite but this was a lived-in and very finely sung Doge, believable in its own right. One was privileged indeed to have been there.
Strangely, this critic seems to think that there was only one performance at Covent Garden, the one where Ferruccio was indisposed and was replaced by John Tomlinson singing from the wings. This was the performance this same critic declared that Domingo was vocally not up to Gobbi in 1965
Die Meistersinger/Simon Boccanegra (BBC Proms) What's On Stage
Singing was magnificent throughout, with Marina Poplavskaya as Amelia surprisingly powerful in the hall's dim acoustic and tenor Joseph Calleja as Adorno all but stealing the show through sheer brilliance.  But the honours of course went to the star tenor, sounding less as though he were trying to be a baritone than he had (at least on the first night) at Covent Garden and all the more comfortable for it.  This looks set to become a classic portrayal for Domingo and may well take him into his seventies; an extraordinary achievement all round.
I did bump into Simon T in the long interval for Meistersinger and opined that Simon B would merit a review in its own right. Clearly I didn't persuade him!
Simon Boccanegra, Royal Albert Hall - The Arts Desk
But it was Domingo's night. I had to blink twice when he first bounded onto the stage. How old is that man? In the Prologue he could have passed for 30. He could also now quite easily pass as a baritone - throughout. He seems to have completed the vocal transition, remarkably. In a world where many singers singing in their favoured voices have lines and fissures running all along their tessitura, Domingo's flawless sound (only a touch too gravelly at the very bottom) is a marvel.

Verdi: Simon Boccanegra - Musical Criticism
Domingo's Boccanegra is a character that has made operatic history...the singer possesses an immensely expressive vocal colour...the result is a compelling figure, both psychologically and vocally. The arch of his phrases tended to be brief, but he rarely seemed short of breath. And in powerful emotional moments, such as the recognition scene, his lines were beautifully delivered.
Simon Boccanegra at the Proms - Opera Today
El Royal Albert Hall se rindió ante la presentación de Plácido Domingo
El infatigable cantante, de 69 años, volvió a dar muestra de la versatilidad de su imponente y noble voz al saber ajustarse con maestría a los tonos más graves que requería el prólogo y luego a los más agudos de los tres actos.
Some curtain call videos: 
Last nights exciting loud and v long curtain call with placido Domingo
Final part of Placido Domingo curtain call at #bbcproms last night - long loud and emotional
(hat-tip to White Rabbit)
* inexplicable because I have a bit of a crush on Clemency Burton-Hill, especially since I discovered she isn't really a Tory, just played one in Party Animals!