It's not often that we get vote to for leader. I've been in the party since 1984 and have only voted in three leadership elections; this compares to six General Elections.
Before the recent General Election I had been politically inactive for quite some time, but Labour Party politics - and, I daresay, other parties, too  - have this habit of drawing you back in.
So when I heard that all the leadership contenders were to be husting in Brixton - yeah, Brixton - I was, like, try and keep me away. I actually did hesitate, because it did occur at the start of the most hectic three weeks of my life, at least since leaving the council. Which is why this blogpost is so belated!
I took a few photos of the contenders. Their relative quality reflects only where I was sitting. I could have been more assertive and taken more and better photos, but I don't think that that's very comradely. And nothing can be deduced from my voting intentions from the photos.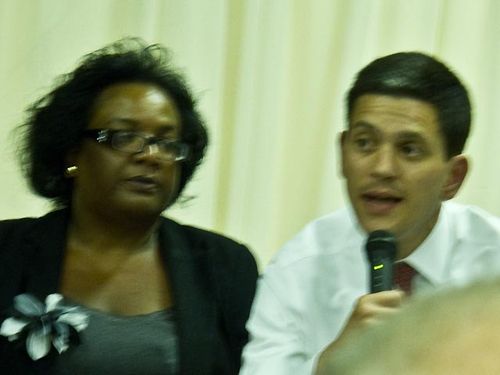 Diane Abbott was the most interesting. I identify the most strongly with Diane. She tends to speak first and think later, or doesn't seem frightfully concerned about how a statement will come across, if it's something that she believes and wants to say. She's also a bit rubbish when it comes to stand-up comedy. I'm surprised that, with her experience, she hasn't realised that however funny one is in informal situations with off-the-cuff quips, it doesn't necessarily work on stage in front of an audience. I feels she knows most instinctively how benefit cuts and job losses will affect ordinary people, whereas I think the blokes are more like me - we can intellectualise from observation but it's not the same.
I am happy to give Ed Miliband my second preference vote. Of the chaps he seemed the one most able to understand the need for change, not just in matters of detail but in a wholesale philosophical approach. I think he has the intellectual capacity to be Leader, although his people-skills fall short of those of say Tony Blair or Neil Kinnock, or indeed Diane Abbott or Ed Balls, but are far ahead of Gordon Brown and Ken Livingstone, for example. I also think he has the capacity to grow into the job. He doesn't come across as a Prime Minister but some people are capable of stepping into giant shoes.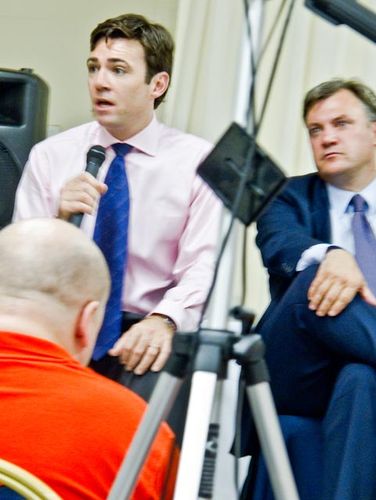 I felt that Andy Burnham's heart wasn't in it. He seemed the most affected by the tremendous heat in the room - by the end he looked a lot damper than this, with which I can sympathise. I think his campaign is so overwhelmingly North West  - so it was a bit weird when he announced himself the local - Brixton-dwelling - candidate. Before the meeting I disliked him intensely, now I don't, so he may count that as a victory, if he wishes. But I can't see any reason to put him above five on my list.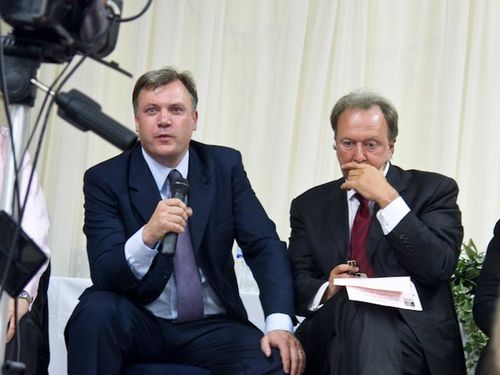 I cannot properly decide between David Miliband and Ed Balls. I feel that they both have way too much baggage I want to distance myself from. Miliband is too much a Blairite, Balls is too much a Brownite. Both of them have repudiated these positions and have declared they have moved on, but I feel some discomfort at some of the Miliband followers, and I just don't trust Ed Balls. I think Balls comes across as by far the most impressive as a campaigning politician, who knows how to seize the news agenda; I fear a Balls leadership would be back to the same-old same-old Mandelsonian/Campbell/Blair/Brown obsession with ephemeral headlines, which was successful for it's time but we've moved on. As for David Miliband, I tend to like him, and I think he has the intellectual capacity to be leader and a personable character  , but I think he lacks a certain indefinable 'leadership quality'.
I think it's brilliant that it's a long drawn-out leadership campaign and that they are touring round the country. Westminster insiders and the media wanted it to be over quickly, clinical and decisively. Instead ordinary party members have had the opportunity to hear the candidates unmediated by mass media and actually ask questions. Political parties get this luxury at the start of a Parliament. Whatever is lost by a sense of leaderlessness in the past couple of months will be soon forgotten. I believe that whoever becomes leader will know - and members and voters know - that they have an undisputed mandate from the members.
There is nothing like political involvement to get members involved. For the past dozen years, the wail has always been - how do we get members involved. And I've always said that people primarily want to be involved in political discussion and education. It's difficult to campaign when you have forgotten what you're campaigning for, or that it's the rather nebulous concept of 'to win'. It gets a bit boring doing local campaigning, a lot of which isn't really party political, but about jostling for position and trying to get inward funding in one's area.
And it was stiflingly hot in the hired premises, which somehow just added to the nostalgic feeling for old-style Brixton policies!
At one point, Diane Abbott stated that she is the daughter of immigrants. I could see reactions all round - the Milibands are the sons of immigrants, and both Ed Balls and Andy Burnham (and Andy Burnham's Dad) have stressed repeatedly that they are from backgrounds far from privileged. Then later, David Miliband proclaimed himself to be 'the first member of my family born in this country', which caused Ed to react, almost - but not quite - imperceptibly, and led to quite a bit of comment on my Tweetstream. So, after the hustings, when Ed came over to talk to the person I was standing with and say hello and glad-hand me, I did ask him whether he suffered from 'second sibling syndrome'. That probably counts as one of the most stupid remarks I have made to someone in such a situation. HE said he didn't know what it was, so I explained. Cringe moment, hey...
PS It was chaired by Steve Richards from the Independent, visible in the Ed Balls photo