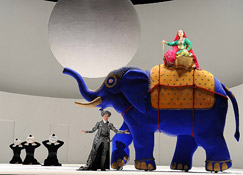 Saturday 20 March
I had booked to see five performances but in the event only went to the final one in the run*. I can't say I was massively looking forward to it. I had read so many reviews which slated most of the cast, and also some that didn't like the production. I have seen the production before, in Madrid, and also on DVD. From that, I think it's lovely, but the criticisms include that it's too intimate for the Royal Opera House.
There again, some suggested that Handel is too intimate for a big house like ROH and then went onto make comparisons to ENO's Handelian successes, oblivious to the fact that the Coliseum is bigger than Covent Garden. Perhaps they were angry that their free tickets weren't in the best seats. Those of us who buy our own understand the trade-off between cost and position.
In a nutshell, I really enjoyed it. This was largely due to the superb writing of Handel and the amazing playing of the Orchestra of the Age of Enlightenment, conducted by Ivor Bolton - who also played the recitative from harpsichord. As a by the way, being so close to the pit I was able to observe much to my surprise that OAE is a predominantly female orchestra and most of the women are over 40, if not more**. I even spotted Chi-chi Nwanoku (her off the TV) - indeed her music stand was directly in my sight-line. Even closer were the theorbos - although I got confused that their parts were labelled Chitarrone but the internet tells me that theorbo and chitarrone is the same instrument; 'chitarrone' made me realise how similar it is to a modern classical guitar.
The negative reviews caused me rather to dread it. Christianne Stotjin (who had been particularly criticised) was announced as indisposed and her replacement as Tamerlano was Tara Venditti.
I had not previously heard of her but I now read she is set to play Carmen at Holland Park in the summer. Run don't walk for tickets: she won't be playing houses like Holland Park for much longer. She was really amazing as Tamerlano.
I assume she was the official cover, because she obviously knew all the moves. If you didn't know you would never have guessed she was the inexperienced last minute replacement. Lovely strong voice, with excellent projection,  confident stage manner, good stage presence, excellent chemistry with other singers. No noticeable flaws. Definitely one to watch.
Before it began, my friend said how much she liked Sara Mingardo as Adronico. I demurred, based upon seeing her in this role in Madrid. But by the end I was convinced. I think she has a couple of annoying mannerisms - facial contortions and a tendency to lean forward from the waist; also in the Madrid run she and Monica Bacelli were too similar in too many ways, and that annoyed me too.
Really I ought to judge a singer primarily on their voice and vocal interpretation. Hers is a rich resonant contralto voice; her opening notes stunned me with their velvet. She brought so much variation in colour and dynamics to the part. Annoying mannerisms aside there was nothing I didn't like about her performance.
The tenor, Kurt Streit as Bajazet was disappointing. Many reviews had singled him out for praise, perhaps Saturday was an off night. Or perhaps they employed the traditional 'be kind to the stand-in guy'. But this was, I think, his 7th performance. I was determined to put out of my mind that which could have been and judge him on his own merit (I love tenors in general!).
There was nothing problematic in his delivery: he was vocally secure and had a noticeably smooth legato line. But he was so  boring. No variation in vocal colour, unless you include long phrases of angry shouting (albeit lyrical angry shouting), and no real sense he cared about the words. I also don't especially like the basic tone of his voice. It doesn't repel me but never did he hit my 'T' spot.
I actually almost fell asleep during the beautiful second act aria, A suoi piedi padre esangue, and towards the end I realised it was during his arias I had taken most opportunity to observe the orchestra. I found it increasingly annoying that he frequently came to the edge of the stage to park and bark his lines with scant regard for the fluidity of the production.
I remarked to my friend afterwards: he's been around a long time but has never really quite made it as a star. I read he is one of the top Mozart interpreters, but this was Handel, not Mozart. 
I wasn't sure what to make of Christine Schäfer as Asteria. Far from my vocal ideal , I nevertheless found her entirely captivating. She's older than me but she projects a delightful little girl persona and oozes understated charisma. I couldn't keep my eyes off her. Often, with sopranos I tend to think - if they don't squawk too much they're fine, and she didn't squawk. But I have heard better in this role.
Honourable mentions to Renata Pokupic and Vito Priante in the smaller roles of Irene and Leone.
Many of the reviews commented on the length of the work - I was glad it was played with very few cuts (having a good view of Ivor Bolton's score, I could see where the cuts were: too few to consider significant).
However, I think the Royal Opera House made a big mistake with curtain times. I was reading of midweek performances finishing closer to 11 than the 10.30ish people expect; same with this Saturday performance - I have observed that Saturdays tend to aim for a 10ish finish. A friend of a friend was obliged to miss the final act in its entirety to catch her train and it was pretty obvious that the auditorium was a lot emptier for Act III.
I realise that they have to be careful with too early starts on weekdays because of people coming from work, but, especially in the absence of a matinee, they really ought to ensure that the Saturday performance finishes at a time that allows people to catch their train.
Overall, one can dissect the vocal performances or even debate the stage of any particular aria or duet, but ultimately, in the absence of any truly memorable singing performances, the judgement has to rest on how well did the performance overall go. It's such a beautiful score: as with all Handel works (that I know) the tunes are instantly accessible, but familiarity is its own reward. Every number is beautiful and could on its own merits in a concert or recital.
The OAE played largely with a  delicacy and lightness that served the score well. My major disappointment was the gorgeous Act III duet between Asteria and Adronico, Vivo in te, perhaps the musical highlight of the entire work, with its gorgeous quartet of flutes and recorders, which this evening seemed surprisingly heavy.
And I really liked Graham Vick's production. I would imagine that, in the hands of say David McVicar it would have been radically different (I'm thinking of his 'Bollywood'-style Giulio Cesare or his hilarious Agrippina), but I'm judging this on its merits.
I liked that it was so light and airy with bold yet spare use of colour. A lot of black and white; Tamerlano's Act I and II costumes and the famous blue elephant were brilliant contrasts. I liked the minimal use of scenery - other than the giant ball that becomes a love seat, and the weird but useful amazing expanding bench-throne. I'm still not sure about the harem trousers that managed to make the travesti women seem incredibly short and Kurt Streit seem incredibly tall.
In summary it was a vastly enjoyable evening, even though of course I couldn't get over the  absence of my beloved Plácido, and even though the cast was weak in general and in certain particulars.
I am surprised at how much I have written, even though a month ago I was planning entire blogposts devoted to each of the production, the dramaturgy, even the history of the work. In my dreams I was also hoping for the opportunity to write at least one blogpost about 'the show after the show' - I had planned a veritable Tamerlano Blogfest, pulling in links from all over t'internet. But it wasn't to be. I am sorely tempted to go to Barcelona for concert performances of this next summer, though - could be combined with beach holiday on the Costa Brava!

* Five plus open rehearsal is a lot to book for a run of anything, but I was determined to make the most of the opportunity to see Plácido. Unfortunately he had to withdraw from the performances for perfectly understandable reasons. I suppose I should have gone to more than one, but as most of them coincided with rare time to spend with Jimmy, I decided instead to do that
** Obviously, I'm not the biggest observer of orchestras, but that does seem fairly unusual. I suppose the touring life of an orchestra becomes incompatible with the prime childcare responsibility  most mothers have to take on. But the gender-age balance of most orchestras doesn't seem to reflect adequately the large number of women who don't ever have children.