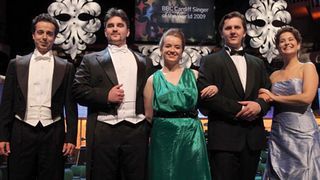 I started watching this on Wednesday night, but gave up, largely due to my tiredness.
Tomislav Lučić had a noteworthy voice but I found him boring.
Izabela Matula was the weakest competitor I have seen in modern times*. Obviously, she was deemed good enough to be in the finals; it may be that hse just had a bad day, maybe she wasn't well, or was preoccupied by worry. In real life, this happens. For a competition it's tough, but we can only judge by what happens on the day.
Csaba Szegedi has stage presence in bundles. I like the sound his voice makes, although not so much in the Don Carlos but I was perturbed by the pitch of some of the notes, and his tendency to fall off held notes. He did speak rather sing in several phrases.
I really liked Yuriy Mynenko, which is worrying, like I'm getting into counter-tenors or something. A beautiful voice and a really involved, passionate performance (special kudos to the horns in Va tacito!). I liked it so much I rewound to hear it all again. I would have loved to heard his Gluck too. So far, he's my favourite of the competition. So, depending on the final two heats, he's my winner. But I reserve the right to change my mind!
I liked Claire Meghnagi's Mozart aria, a gorgeous bell sound at the top, although I she sounded a bit muddied lower down. I had never heard of Les mamelles de Tirésias until a couple of weeks back when a friend went to see it, in Bilbao I think. (And I don't know much Poulenc but I love Dialogue of the Carmelites). A fascinating aria, but I'm not sure I liked the squawky sound she displayed too often!
So, for the first time this week, the jury agreed with me!

*I started watching this in 2005 once I'd got digital telly, after a break of several years.