Last night at ENO.
Fabulous, really wonderful. I'd definitely recommend going.
(If last night was anything to go by there's still lots of seats available. In the Upper Circle which has three blocks the central block was mainly full, but the right and left blocks probably less than half full. I was in Row H which is by no means a great seat, but I didn't at any time regret not paying more for a better seat. Intermezzo gives details of a cheap offer).
This is exactly the sort of work that English National Opera does brilliantly: a small cast of excellent singers: Rosemary Joshua, John Mark Ainsley,  Christine Rice, Patricia Bardon, Iestyn Davies and James Gower. Conductor Christian Curnyn.
Throw in an exciting and innovative director - Christopher Alden, with an excellent creative team - and you have a really good night.  So good I almost applauded the scenery says obscure Brixton blogger
What I love about Handel is that the opera can be placed in just about any setting or any time period and it works. There is no great modern performance history of Partenope, so no real opportunity for die-hards to complain that it isn't an exact facsimile of when they first saw it in 1950something. In many ways the story doesn't matter too much - is merely an excuse for characters to fall in-and-out of love and perform Da Capo arias about their inner emotions. That having been said, you can't please all the people all the time. I overheard a conversation saying that the production was well 'over the top', and that ENO do do some ghastly productions - citing Satyagraha as being 'ghastly'. I know that taste is non-negotiable, and that Philip Glass's music is not to everyone's taste, but to dismiss the production of Satyagraha as 'ghastly' is, well, it's quite possibly the best production of anything I have ever seen live (or on TV) ever in my life. Saying 'it's ghastly' is quite quite different from 'I didn't like', bordering on the arrogant.
The concept was of a 1920s cocktail party. I read some months ago that it was to be based upon Virginia Woolf's Orlando, although I saw no reference to that in the programme, and really, other than being 1920s and gloriously gender-bending, I can't see a great connection.
Gender-bending: Christine Rice was Arsace, a male character; Patricia Bardon was Rosmira (female) disguised as Eurimine (male) and although Iestyn Davies - Armindo - is all man in appearance and role, being a counter-tenor creates a certain ambiguity in my mind.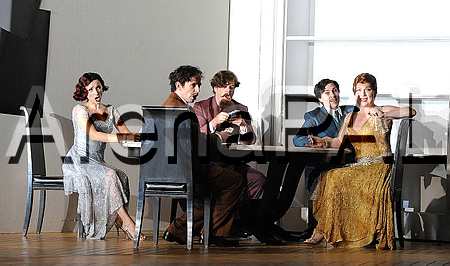 The first act was set at a cocktail party. The scene was beautiful - a two-tiered stage representing a salon and stairs leading up to an upper level landing or corridor. Walls in white and to the right a table, with a gorgeous chandelier. I thought the set was exquisite but sadly can't really find photos to do it justice, nor really the costumes.
Act II was set in the same house but focused primarily in the hall, with the downstairs loo providing some light relief. And Act III was set in a day room,  light and airy, with Arsace spending much of the time lounging on a day bed while Rosmira/Eurimine perched high up on a semi-balcony above a set of shelves.
Emilio, the invading Prince from Carthage was based upon photographer Man Ray. The use of the camera provided some stage action and also contributed to the denouement, but really didn't add a great deal for me - nor did it take anything away.
It was an excellent ensemble piece for an excellent ensemble, all characters well-directed and convincing in their roles.Some particular highlights included:
A rather well-executed if slightly camp dance by John Mark Ainsley,
real elegance and subtle sexiness from Rosemary Joshua,
 Christine Rice's brilliant portrayal of a young man, even in the way she lolled against a door-frame.
The gender bending was delightful, eg when Patricia Bardon as a woman disguised as a man made play for Rosemary Joshua, or the gorgeous love duet between Christine Rice and Patricia Bardon - perhaps the musical highlight.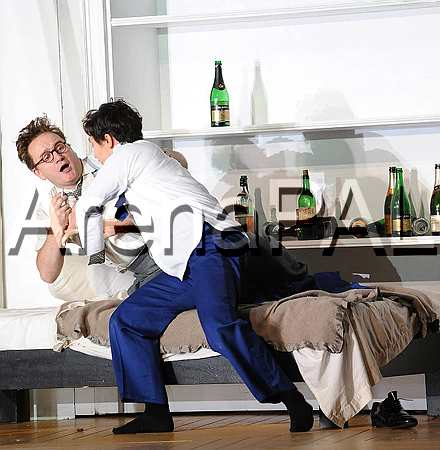 I had studied neither score nor libretto beforehand, nor do I think I have ever heard let alone seen the opera before, so I went in with no pre conceptions. This is my usual attitude to Handel - there are no surprises in the music, and the structure follows the opera seria formula. Time and time again I wallowed in the gorgeousness of the orchestra and delighted in the simple brilliance of the tunes. I liked the libretto very much, translation by Amanda Holden, but a very loose translation with some comic effects, some lame (but not unpleasantly so) rhymes and some 1920s phraseology.
In respect of the cast, James Gower's role was the least and he performed satisfactorily with the material he had. He's a Young Artist and I'm sure he progress well to bigger parts. 
I was disappointed in John Mark Ainsley. He acted the character well but I didn't warm to his voice. It seemed quite small and with no real beauty,and no real sense of agility around the coloratura bits.
Rosemary Joshua was good in places but she was rather thin at the top and really couldn't trill,instead using  a pronounced vibrato - bordering on wobble - to negotiate the florid bits.
Mostly Patricia Bardon was gorgeous. She really throws herself into the part, really seemed to be enjoying herself, which transmitted to the audience, and generally sounded fabulous. Except for one passage that was particularly high lying and she had to screech and squawk to get it out. An ugly sound and quite out of place. Only for a couple of bars but that rather blurred my overall assessment.
Christine Rice was fantastic vocally and dramatically; she really can do no wrong. A really fabulous mezzo-soprano, with a gorgeous voice, innate musicality, intelligent interpretation, wonderful stage presence. Indeed, if it wasn't for the existence of Sarah Connolly and Alice Coote, she would definitely be my favourite British mezzo (Patricia Bardon is Irish) - how can one choose between them?
But for me the absolute highlight of the night was Iestyn Davies.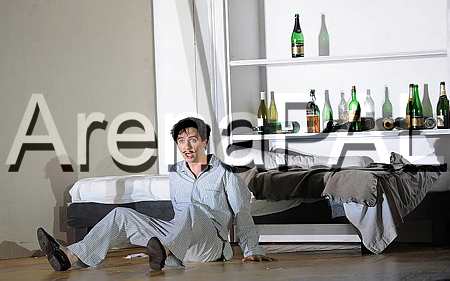 I am not generally a counter tenor fan, but all negative remarks previously made about c-ts on this blog may be laid aside for Iestyn, who has a beautiful voice, the ability to vary colour and tone, projects well, is good on stage and, really, has a je ne sais quoi which is just pure star quality. Just looking at his schedule, he will be in the much-anticipated Dido and Aeneas at ROH, lots of appearances in London and the world - I assume that Samson with Bicket and the English concert is a Prom. But the one that really catches my eye is the Athalia in New York in May. He and Carolyn Sampson together, and Ed Lyon whose voice I fell in love with the other week, plus Neal Davies who has also impressed me. It's too far for me  to go just for that, but I would say to anyone in New York, if you're in two minds, don't be. Run don't walk.I can't imagine it would be less than splendid.
In actual fact, the next year is going to be just one long Baroque-fest. Purcell was born in 1659 (350 years ago); Handel died in 1759 (250 years ago); Haydn* died in 1809 (200 years ago). The Barbican is having a Purcell, Handel and Haydn Season; word is that the Proms will have PH&H as a major theme; and the opera houses are obliging.
The lowlight of the evening was certain members of the audience. I suppose I shall just have to get used to the idea that the overture is the time to continue and finish one's conversation, not the time to shut up.
I got a bit annoyed by people who let out totally false laughter at bits which were mildly funny. I don't understand why people do that. It's not like that they are being polite and laughing at a friend's lame joke. Maybe it's because they think they 'ought', but you would think they would pick up clues from  everyone else, who isn't laughing. Or maybe they think it shows they are ultra-sophisticated, that they are the ones who get the obscure intellectual humour (...!), little realising that there are plenty of other people who do get it, and are amused in their head. And then, especially in Act 3, you get those who laugh loud and prolonged, probably because they're so pissed they actually genuinely think it's really really really funny, whilst everyone else is merely tittering mildly.
But probably worst of all was the man next to me - or who would have been next to me if I hadn't shifted along to take advantage of empty seats and get shoulder-room. He sneezed once and blew his nose. Fair enough. Except that he continued blowing it for ten minutes, and I really wished I wasn't in earshot. I think I can honestly say I have never heard such blowing even from someone with a streaming cold - and he had sneezed just once!
* I know that Haydn is more correctly classified as Classical, but there is a reason why Handel and Haydn are often grouped together