Another in my occasional alphabetical reviews of DVDs etc.
Written by Umberto Giordano who also wrote Andrea Chenier, I started this exercise thinking that Fedora is a worthy but forgettable barely second-rate work. Prior to last weekend, I had heard it once live, at Opera Holland Park and once when I first acquired the DVD.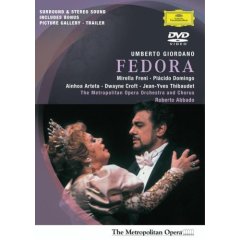 Click image for details
There is another commercial version available which I do not currently own but I will...!
In addition I have a 'private' recording from Liceu Barcelona from 1988 with Renata Scotto as Fedora, which is basically the same production as the New York Met, but with different costumes and the sets refurbished. This has been converted to DVD from an obviously well-played VHS, and my gratitude to the person who did this is unbounded; however, commercial DVDs are better quality.
On the whole my comments are about the New York version, except where indicated. It would be nice to have a commercial DVD of the Barcelona one because I think Plácido is in better voice and hunkier, although I wouldn't exactly say he is unlikeable in the New York one!
I think Act I should really be termed a Prologue, because it is only 24 minutes, including overture, little more than a scene-setter, without the Leading Man, and containing little in the way of musical interest.
It's Count Vladimir's last night of freedom before he marries Princess Fedora Romazov. His servants, playing cards in his absence, hint he's marrying her for her fortune.
Fedora arrives and as is customary at The Met, applause breaks out, interrupting the music for over 20 seconds. The scenery is very nice and worthy of strangely absent applause - an opulent 19th Century Drawing Room, although nothing remarkable, standard of stately homes. she wears a fur-trimmed velvet cloak and fur muff. Fake fur, I hope, although doubt! she removes her outer wear to reveal a turquoise satin dress with a train descending from the waist. The sleeves, bodice and edge of the train are decorated with glass beads or possibly crystal, and intricate embroidery. She wears a tiara, so I assume she must be a widow, because only married women are supposed to wear tiaras, unless unmarried Princesses can anyway. To complete her outfit she wears sparkly earrings and a sparkly necklace. I cannot emphasise enough the sparkliness. And she also wears a bib blingy-rap style diamanté crucifix round her neck.
The Count's sleigh arrives and the unconscious count is born inside by servants. A doctor arrives and a priest is summoned. All assume it is an assassination attempt, because the Count, the son of Chief of Police, has been threatened before. The servants are interviewed. One waited for Count Vladimir outside the Hunt Club. Two shots rang out. The man running away left a trail of blood in the snow. They find Vladimir bathed in blood with his pistol next to him. They tell how a letter was delivered to Vladimir that morning; separately a man came to visit, then ran away without giving his name.
Fedora makes an impassioned speech against the nihilists and in tribute to Vladimir, the glory of her life. She vows eternal chastity and mourning and to avenge Vladimir on the cross left to her by her mother. The servants remember the name of the man who called - Ipanov, who lives next door, but the house is dark and the assassin has escaped.
The doctor emerges with a blood-stained apron to announce the Count dead. Fedora sings a lament to Vladimir accompanied by a solo string, perhaps a viola. The other strings join in for the climax.
Act II Paris is where the opera really gets going. Opens with a waltz and signs of a sumptuous party. This is nicely staged, not making the Zefferellist mistake of packing the background with Cecil B. deMille cast of thousands. It's a select party for the cream of Russian exiles in Paris. Ladies in satin gowns of bright blue, pink, orange and purple, men in white tie.
Fedora is attended by two men, one of them looking particularly distinguished. She introduces him to the other as her 'new friend' count Loris Ipanov. As an aside, she says she has trapped him. He is warned by a friend, Borov, that he is danger. He says that he loves her. She sings of her cross and how she has replaced the sacred relic with a potion that cures all ills.
Fedora's cousin Olga, the belle of the ball, sings a frivolous song. She introduces Lazinski as a Polish pianist, the heir to Chopin, poet of the keyboard. Various light flirtations take place between the guests; Fedora and Loris also appear to be flirting. He sings 'Amor ti vieta', the most famous number in the work, lasting for 1 minute 20 of glory. It gets 35 seconds applause in New York, 1 minute and 9 seconds in Barcelona. It is operatic custom that for applause following an aria, the characters freeze their position. That seems a very long time to hold a position frozen! She says she is going back to Russia to petition for his pardon. He says he won't be pardoned though he is innocent of a crime.
Lazinski entertains the guests with a delightful tune on the piano. This acts an accompaniment to the dialogue between Loris and Fedora, detached from the other guests. He pleads his innocence,she challenges him to prove it. There is obvious erotic passion as they hold each other and gaze into each other's eyes. He admits to killing Vladimir and in the silence that follows Lazinski's first passage, she cries out 'Assassin'. It is a superb passage, in my estimation the highlight of the opera, with the juxtaposition between the oblivious guests and the dramatic confrontation. Loris's desire for Fedora is obvious, and, for me, irresistible. They arrange to meet again in an hour and he sweeps out as the pianist reaches a prestissimo climax which also accompanies her dramatic declaration that she will get him - Ipanov, of course.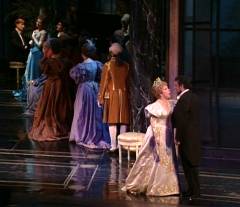 It's clever how the piano recital, part of the 'story' acts as the sole musical accompaniment. Int he New York production Lazinski is played by world-class pianist Jean-Yves Thibaudet who gets by - just - as a non-speaking actor.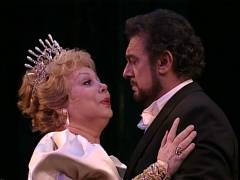 Fedora's dress is white satin with sleeves elaborately decorated with gold fabric trim and diamanté sequins. The bodice and skirt are also decorated with the gold appliqué. The only miss hit is the leg-of-mutton sleeves. Also in close up, the zipped cuffs don't look good, but I don't suppose would be visible in the theatre and are presumably useful for quick changes. She wears a big crystal necklace, a tiara and, of course, the crucifix.
The party breaks up with news of an assassination attempt on the Czar. Fedora sits down to write a letter, seeming resolute. she pauses, she gasps, her bosom heaves (whether in pain, sexual desire or the thrill at nearing her vengeance, isn't clear). She summons a spy in from outside and gives him the letter. They agree that when he gives a signal, she will dismiss Ipanov from her company into the hands of the spies.
Loris returns and eloquently tells the story of how he came to kill Vladimir. The aria 'Mia madre, la mia vecchia madre' is amazing, better than 'Amor ti vieta'. Vladimir was witness at the wedding of Loris and Wanda, and the began an affair with Wanda. Vladimir and Wanda were in love and were indeed after Fedora's fortune. His anger at the memory of catching Vladimir and Wanda is frightening. He explains that Vladimir shot him first, and he shot back and killed him. (At this point I am wondering how he managed to survive a gunshot wound, indeed how he managed to get treatment without arousing suspicion). Equally moving is his sadness at recounting how Wanda fled, fell ill and died. He mourns for his family, his future and his homeland. Fedora pledges that she will love him for ever.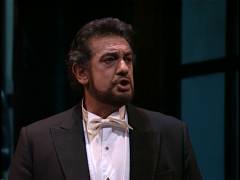 She makes him stay - despite the risk of scandal - because of the spies that surround the house. He flings his cloak onto a chair and declares his passionate love for her whilst still wearing his cashmere scarf.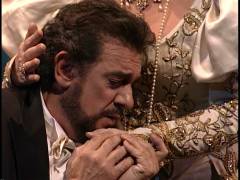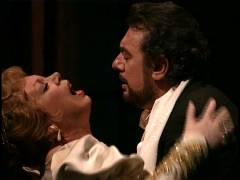 Although they are both fully dressed, the music tells us what happened between them, and the Act finishes in a glorious musical climax, the lovers entwined in a passionate embrace and the audience screaming its appreciation. His intensity in this final scene is a prefect demonstration of why I adore Plácido so much.
Act III is set in the Bernese Oberland. A rural idyll in the Alps with suitably bucolic music with added Flugelhorn. Fedora and Loris are blissfully happy as they exchange endearments, and show their amused indulgence of Olga, who is bored of life. He's dressed in tweed jacket and waistcoat, cravat, breeches and boots, Fedora's dress is relatively simple. she wears pearl studs and the blingy cross. The Act is set on the terrace outside their wooden chalet. Wicker furniture with chintz cushions and flowers trailing from flower plots emphasise the happy simple life.
Loris goes to the Post Office to collect his post, Fedora and Olga take afternoon tea with De Siriex who flirts with Olga. Olga goes to change for a bicycle ride, and De Siriex questions Fedora about Loris. She expresses the depth of her love. De Siriex has a story to tell as dramatic low strings play in the background. A young man was arrested as a Nihilist and imprisoned. A river flooded the prison and the young man drowned. His name was Valeriano Ipanov. The news of his death killed their ill aged mother.
Fedora is distraught knowing that she is responsible for their deaths. The visitor leaves to go bicycling with Olga. In the background an accordion plays, a peasant boy sings and a piccolo flutters the sound of rural idyll. In 'Dio di giustizia', Fedora prays, pleads and begs for Loris.
As horns sound in the background, he returns dejected there are no letters from his mother or brother. A servant hands over a telegram from his friend Borov in Paris - he has received his pardon. His joy is unconfined, he thinks immediately of his aged mother, his brother, his home, his native land, and he insists that Fedora joins him at the altar.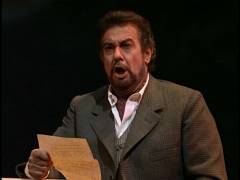 He turns to the letters he collected from the Post Office, including one from Borov in Paris, written before the telegram - which tells him about the events back in Russia. His horrified at the drowning and shows anguish in sympathy for his ill aged mother; he is devastated when he reads about her death. Borov also notes that the accusation was written by a Russian woman in Paris giving only her first name; he has the letter. Fedora tries to comfort him as he grieves, his grief exacerbated knowing that two innocent people dies because of him. He vows vengeance on the woman who betrayed him and is desperate for the comfort of Fedora, the only person he has left in the world.
She tries to plead for 'the woman' who was in love with Vladimir. The 'Amor ti vieta' theme plays and we embark of a great duet of melodrama, great personenregie, fabulous interaction between the characters as she hysterically/desperately begs forgiveness and he vows he will forgive only after he strangles her. She takes the poison from her cross. In horror, anger hatred and shock he realises that the murderer was Fedora.
Dr Borov arrives; Loris urges him to save Fedora. She sings 'Troppo tardi! Tutto tramonta...' an elegaic aria accompanied by mournful cello. Again we hear the peasant boy and accordion, now they sound melancholy. Plaintively, the strings and harp play the 'Amor ti vieta' leitmotif, now as a mournful lament as the dying Fedora cries out for Loris. He crouches beside her and utters his forgiveness as she dies in his arms, as a dramatic drum-roll drowns out the sound of the peasant.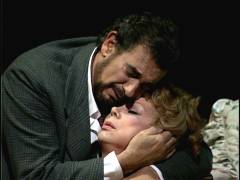 Applause starts before the music finishes presumably because the curtain descends, and with a jolt we realise are in the theatre and not actually involved in the intimate life of Fedora and Loris. and, emotionally, I am drained, pondering the selfishness of Fedora, to kill herself and leave him totally alone, when he is already has such profound and unbearable grief. How can he live without her? How can he live with her? Her mitigation I suppose is that in killing herself she saves him from doing so.
After four viewings in the past week I am hooked on this opera, finding it moving and thought-provoking. In structure and in so many ways I can't quite articulate, it reminds me of Tosca. I particularly like the way the pianist in Act II and Peasant Boy in Act III are used as integral parts of a clever score. Perhaps the transparency of the construction lessens its impact. Something stops it achieving masterpiece status but I find it worthier than some of the war horses and many of the rep mainstays.
After I had watched it, and written this, I thought I word refer to "Plácido Domingo: My Operatic Roles" which mentions that when he auditioned for Mexican National Opera as a baritone they made him sing Amor ti Vieta, and he became a tenor. He says it's a favourite role because, like Alvaro and Siegmund - he suffers a great deal, although he also says it's not difficult, which is interesting, because if you read through the book most roles are very difficult. He also says that he is able to forgive her only because she is dying.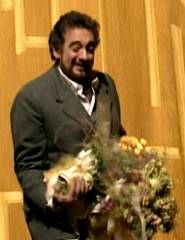 catching with one hand his third bouquet thrown from the audience