Gosh!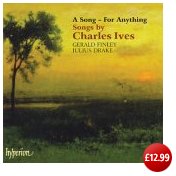 Just as I was poised to leave the house, coat on, keys in hand, there was a knock at the door. Postman, delivering to me from Amazon. Bit of a surprise because I had opted for Super Saver Delivery, and the order had only dispatched Monday. In the order was A Song - For Anything: songs by Charles Ives, with Gerald Finley baritone and Julius Drake piano. But my copy doesn't look that any more...!
Naturally, I took it to work, and played it in my PC, through my headphones. At the end of the thirty first song I had a big smile on my face. Well, actually, that smiled developed a lot earlier. I was a bit nervous because I really don't know anything about Charles Ives. That having been said, I wouldn't mind hearing Gerald Finley sing the telephone directory. But this was much better than the telephone directory. I think I liked just about every song on first hearing. What a fabulous record - here's the Hyperion page - We ♥ Hyperion. But I have already decided that my favourite is Memories: (A) Very Pleasant.
We're sitting in the opera house, the opera house, the opera house;
We're waiting for the curtain to arise with wonders for our eyes;
We're feeling pretty gay, and well we may, "O, Jimmy, look!" I say,
"The band is tuning up and soon will start to play."
We whistle and we hum, beat time with the drum.
We're sitting in the opera house, the opera house, the opera house,
awaiting for the curtain to rise with wonders for our eyes,
a feeling of expectancy, a certain kind of ecstasy,
expectancy and ecstasy, expectancy and ecstasy
SSHHHHHHssssss. Curtain!
And then this evening, I went to see him live at the Wigmore Hall, accompanied by Julius Drake. I was so excited. I will confess that I hadn't even heard of Gerald Finley until early this year when I went to La Traviata. He was Germont pere and his voice just seduced me. I also heard him in Britten's War Requiem and I was equally impressed. I absolutely adored him in Eugene Onegin, so I just had to book this evening, and Figaro in February, and Beethoven's Ninth in April. Just wonderful.
But because I was so excited I also had an attack of audience nerves. High expectations - would they be met? Beforehand and during the interval, I met up with Simon - our diaries often coincide. I did try to persuade him to come to the Green Room, but he declined on the basis he hadn't bought a CD. What I should have said was "You owe it to UK blogging to take control of my camera..."
The first half of the programme was Schumann's Dichterliebe. I thought I knew this better than I did. I thought I had it in my collection, but I was not as familiar with it as I thought. Never mind, I knew it quite well when I was young, and things learned young often stay with one.
It is gorgeous music, set to poetry by Heine. It's really a duet between baritone and pianist, and very Schumannesque, I reckon, anyway, having studied obsessed over Schumann for O-Level. And it was wonderfully performed. Julius Drake is a superb pianist/accompanist and Gerald Finley...well, he lived up to my expectations! Quite a formal recital, and yet, managing to convey the dramatic meaning of the words in his facial and body language, as well as in his voice.
The second half opened with Samuel Barber 's Hermit Songs Op. 29 (yes that same Samuel Barber who wrote Adagio for Strings and bombing Vietnam) and, I have to say, musically they were the least to my liking. These two have recorded a Songs of Samuel Barber on Hyperion. I don't think it's been released yet. I'm not sure whether or not I will buy it, but if I do it won't especially be for the Barber music. I don't want to overstate my reaction. It was okay-ish music performed beautifully. If you get me.
But the highlight of the evening was, for me, a brand new Charles Ives fan, the Charles Ives songs. Programmed were: The Side Show; Memories: a. Very Pleasant b. Rather Sad; Tom Sails Away; Swimmers; A Song – For Anything; and in addition, as encores, we got Charlie Rutlage; 1,2,3 and, er, one of the German ones (hey, I only became an Ives fan today, I'm not an expert!). What really struck me was the diverse styles in these songs, all very tuneful and song-like. I would really recommend this CD to a much wider audience than just fans of art song and 'classical music' . I know it is Art Song, but really, it's song, bloody good songs. Read those reviews, including on the Amazon (US) site
Overall, it was an immensely enjoyable evening that exceeded my expectations and absorbed my attention. I just love Gerald Finley's voice, maybe I'll just quote the Metro "Baritone Gerald Finley combines a glorious sound with great dramatic instinct" He comes over really well on stage, too The Wigmore Hall (to which I had never ventured before tonight) is a small and intimate venue but it's as important to grab the audience in such a place as it is an opera house, perhaps even more so. He doesn't come over as forceful, but he certainly takes the audience with him. I'm even more of a fan now! And I was well impressed by Julius Drake on the piano.
At the start of the second half the announcer mentioned that the CD was on sale in the foyer and if we wished the artists to sign it, we could go behind to the Green Room. Keep me away! So I got to meet him. I'm always slightly apprehensive at meeting people I admire, because sometimes you rather you hadn't. I was very glad I did, he seems a very nice person. Open and welcoming. He signed my CD booklet, explaining that Hyperion deliberately make the bottom of the picture dark, for signing, so I said something really stupid like "Hey that's really cool." I mentioned that I was looking forward to Figaro, so he said come and say 'Hi'. I think my face said "Oh my goodness, I couldn't do that...!" so he added "if you get a chance..." I was actually thinking that February is not a good time for hanging around Stage Doors (not me I'm thinking of, it's not fair on the singers, who have to look after their voices far more than I have to look after my abacus). I am looking forward to Figaro even more now, and I came away with a real feeling of thrill. Oh, Louise was there as well.
I took some photos. They're okay, not great, and I will publish a selection, but not tonight.
Update: An excellent review in The Times, who along with The Guardian award five stars *****