I seem to have gone into a slight hiatus in my 'Blog All the Records By Forty'. But as I'm not 37¼ until Friday, I still have plenty of time.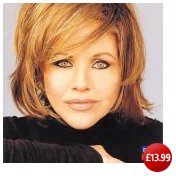 I bought this CD soon after seeing her live at the Royal Festival Hall last year. Of course, if I had been smart, I would have bought the CD there and then and joined a very long queue and got her to sign it. But I didn't. However, I shall be seeing her as Desdemona next month, and in recital in November.
Since that concert and buying the CD, I have read manay of her detractors describe her style of singing as swooping, much to the consternation of very many "Fleming Flappers", who argue it's portamento But once something's been drawn to your attention, you can't help notice it.
It's more noticeable in some arias than others eg Rachmaninov's Vocalise. But it doesn't especially bother me, and certainly not to the point of marring the album. There are some truly gorgeous arias on this, such as É strano...Ah, fors'è lui...Sempre libera from Traviata, which are evry difficult to ruin, and Renée certainly doesn't. I also adore Je marche sur tous les chemins...Onéissons quand leur voix appelle from Massenet's Manon, even though I translate it as 'I march on the railway, obeying as your voice calls' (I have a similar problem in Nium Me Tena in Otello which is mindblowing music but I have an irritating habit of thinking that he's singing "I've come to the end of the railway line").
I just love the way she sings Come scoglio. And of course, the Song to the Moon from Dvorak's Rusalka, which is sort of her signature aria.
Overall a really pleasant album, especially for a warm Sunday afternoon that's pretending to be summer.