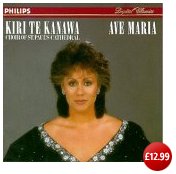 I have just the one specifically Kiri Te Kanawa album in my collection, Ave Maria, on vinyl. I was quite a fan of hers back in the vinyl days. Still am, to an extent. I happen to really like her voice, a mixture of clarity and a certain sultriness. That having been said, she did a recital at the Festival Hall about a year ago. I was thinking of going, then for some reason I didn't, then I read some really panning reviews.
The music on this is a compilation of some of the divinist divine music, and is therefore, in my opinion, worth listening to even for that alone. I think if I had blogged this ten years ago, my prose would have been full of superlatives. Indeed, I don't know any albums in my collection that so many people have requested tapes of - you know back in the days when we used to do that...!
But I'm not so sure now. Yes, her voice is luscious and glistering. But I'm not sure that the colour is right for the type of songs. Not that I'm religious, but I do believe that sacred songs ought to be sung in a devotional sort of way, rather than an exercise in demonstrating the wonder of the voice.
I have better versions of many of them in my collection now, but this album introduced me to them. My favourites on this are Mozart's Laudate Dominum; Gounod's Sanctus (especially the brightness of the orchestral brass); and Schubert's Ave Maria.
Although this may seem a damning by faint praise, I no sooner finish listening to the tape then I have to rewind it and play it again.