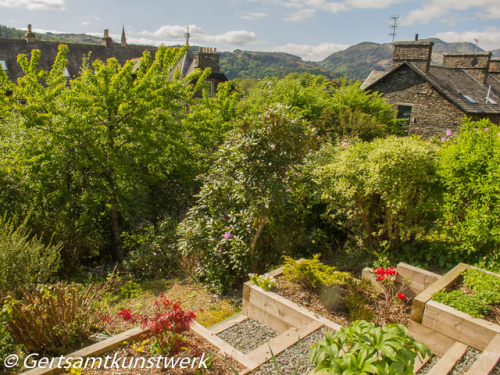 We went to stay in Ambleside last Spring. We stayed in a delightful holiday let. Technically, it was a flat but it didn't feel like one. Perched on the side of a hill, it had a terrace and a garden, falling away into woods, with the most magnificent view of the fells.In mid-May, the days are not the longest possible, but they're long enough, and with a westward view into the setting sun, our day was extended by basking in the sun after dinner and, technically, being able to read outside up to 10pm.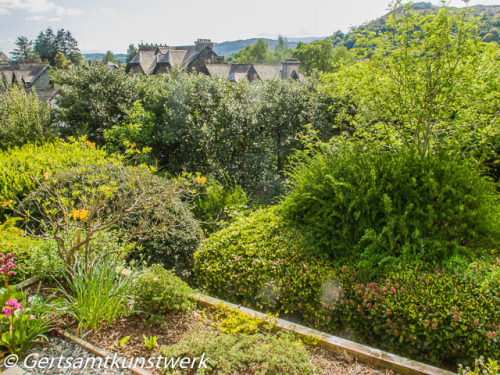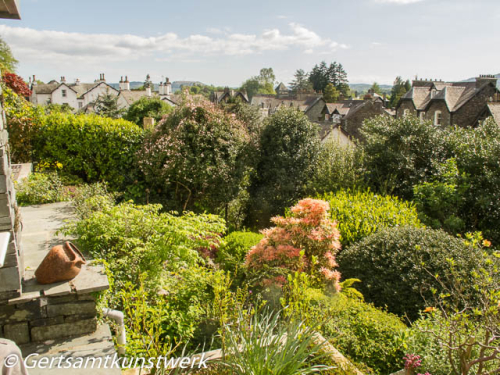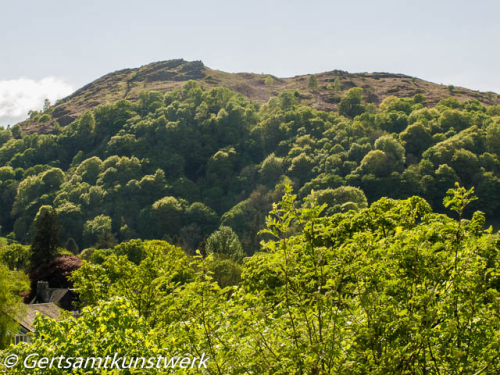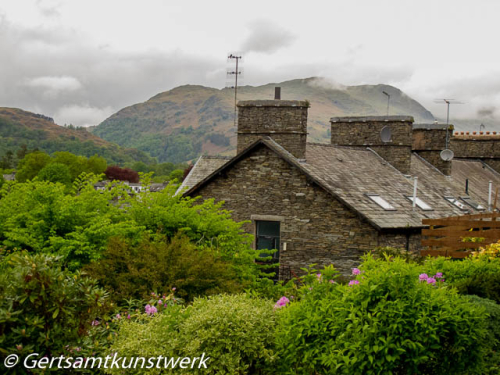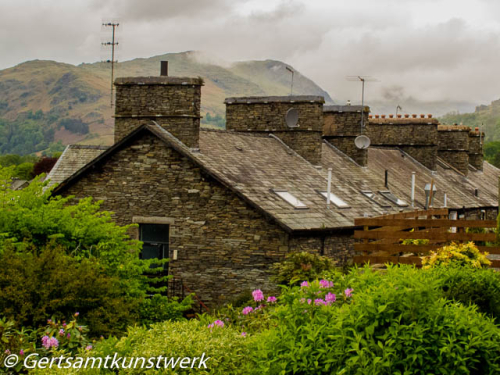 These are all taken from the terrace of the flat, and as you can see, vary with the time of day and the weather.
When you go to the Lake District, you have to be prepared for the weather. It's reasonable to expect rain. And, guess what, it rained! But, actually, hardly at all. There were a couple of days when we saw it was raining and planned accordingly. One of them was the first opportunity for a rest in a week - that's the trouble with holidays. You're dashing about the day before to get packed and ready. You have an early start on the day of departure. Because of the distance, we stayed overnight in Cheshire (not that it's a massive distance to drive, but it's a long way to risk major delays and end up arriving at the dead of night with nothing to eat, and then wasting the first day because you're so tired from the journey).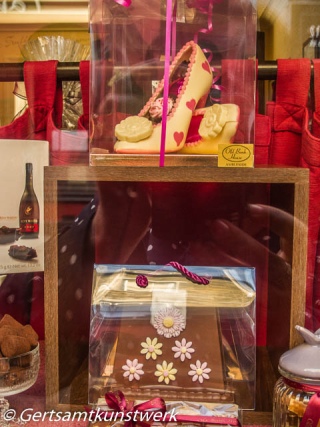 We were pretty much in the centre of Ambleside, which is a good base. I think you could go to a different restaurant every night for three weeks. There are plenty of shops - my walking boots packed up (I'd had them a good few years) and I couldn't have been better located for replacements. Several shops catering for tourists - book shops and three different chocolate shops. There's a small Tesco and Spar, but for a supermarket you have to go to Windermere, not far by car or the frequent bus service. There are also several independent food shops.
Ambleside is well geared up for tourists. During the weeks most people were dressed in outdoor clothes, so it came as a shock at the weekend when a different 'sort' arrived, barely able to walk for lack of practice! And I was surprised by how many overseas tourists there were. Unsurprising to see people from Western, or indeed Eastern Europe, but I was surprised to see just so many from Asia - not British Asians, but organised parties from China and India, and one group we were struggling to guess their ethnicity, Nepalese perhaps. Tourism is a vital part of the British economy, and I tend to think of it being centred in the London-Oxford-Stratford triangle, or in Edinburgh and selected parts of the Highlands, but the Lake District really is a global tourist destination, and all that tourist spend represents 'exports' and 'foreign earnings'  to the national economy. Unfortunately, most of the jobs it generates tend to be seasonal and low paid.
The area round our flat was also quite picturesque.
We had a fair number of military planes flying low overhead and I made several attempts to photo them, some more successful than others.
There were some nice sights around Ambleside. I can't tell you how many photos I took of rhododendrons and azaleas - they were prolific and copious in full bloom in many colours around much of the area we visited. But I find them so hard to photograph because they are so bursting with colour that it's difficult to get the settings on the camera right without exploding with colour.
No trip to Ambleside is complete without the obligatory photos of the famous Bridge House.