It seems so very long ago, but I had such a good day out, and took so many photos, it seems wrong not to blog about this trip. And, let's be honest, everything else that happened since! 
The 'Dangleway', or more properly, the uh, thingy, cable car from, er, like, near the Dome, opened at the end of June. We had seen test rides from afar A pre-Olympic trip to Greenwich Park, and I wanted to take a ride before it became popular. It hadn't exactly proved to be so up until that point, and certainly hasn't over the winter. The day before we visited, free tickets were distributed to residents of nearby Boroughs. We didn't qualify. I don't think it will ever become popular as a means of transport. TfL season ticket and Freedom pass holders have to pay a cash (or Oyster) fare, so unless your journey is basically North Greenwich Peninsular to the Royal Docks (or vice versa), with no onward travel, you might as well get the Jubilympics Line. Unless you're carrying a bike! But as a tourist attraction it's amazingly cheap.
We shared a cabin with a family - small baby and Dad, and Dad's parents. Grandma was a nervous flyer, but once the cable car took off, she was fine. I liked that it gave me a different view of an area of London I don't know very well. Also, it proved to be a gateway to further explore this area.
We caught the Jubilee Line to North Greenwich Station and strolled to and past the construction known variously as Millennium Dome, O2 Arena, and North Greenwich Arena.
Above the car-park hung the Dangleway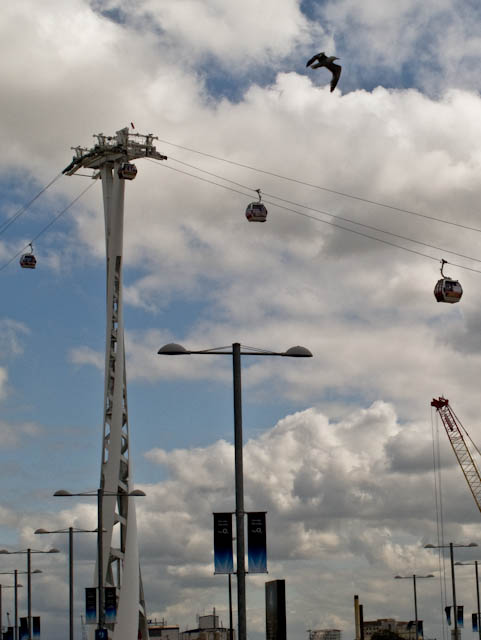 I became unnecessarily excited that the cogwheel that drives the cable car was clearly on display. We queued up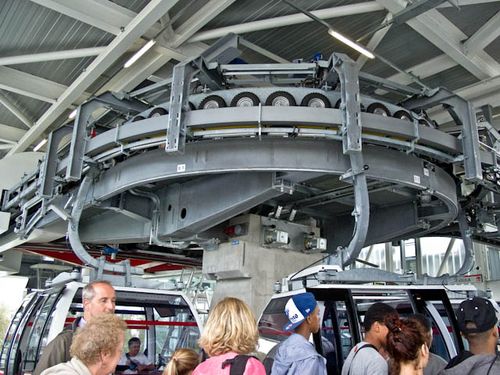 and soon were able to launch ourselves into an actual cable car capsule. (Do they call them capsules? Or is that exclusively London Eye nomenclature?).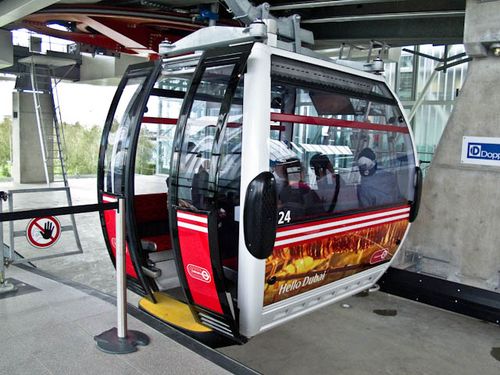 From the deepest reaches of South London, we embarked on our epic trip to the undiscovered East.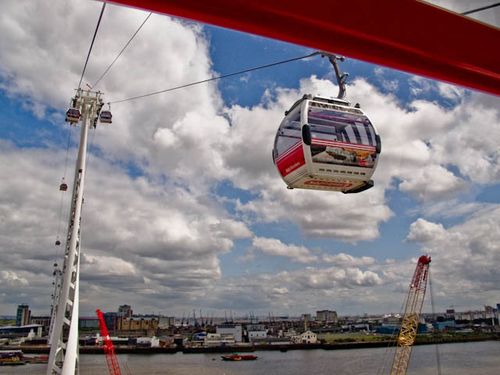 In life, it's best not to look back. But on a cable car, anything goes.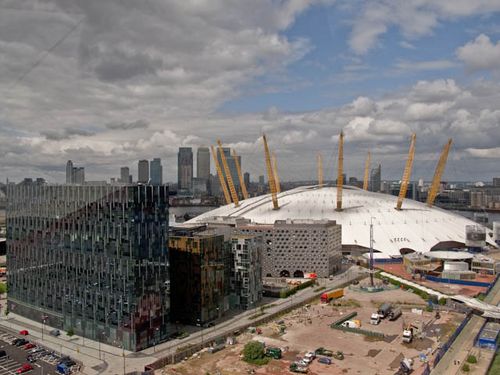 So many different means of transport. I assume this is a Thames Clipper, or something similar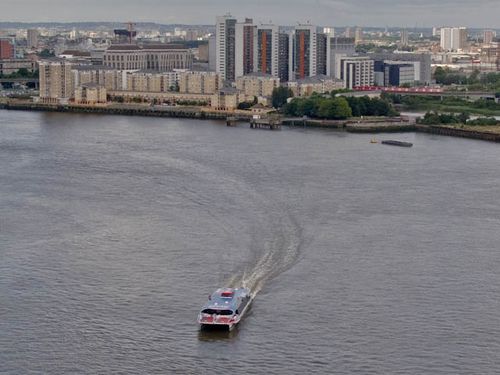 Perhaps surprisingly, this was my first glimpse of Olympic Park, with the iconic stadium and Anish Kapoor's controversial Orbit.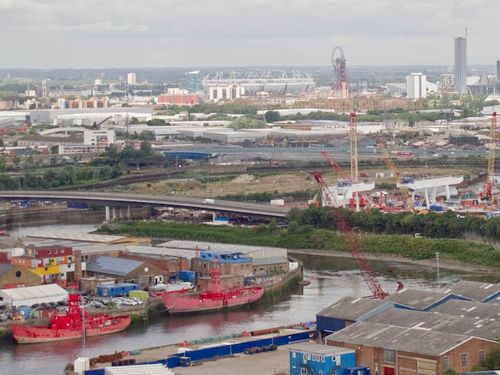 Our next London 2012 venue was the Excel Arena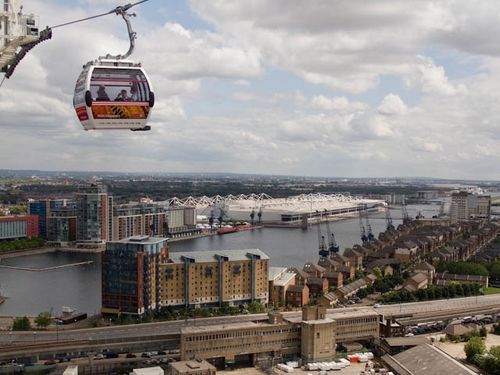 and we also had a good view of the residential area lying south of the Royal Docks, and Silvertown Way.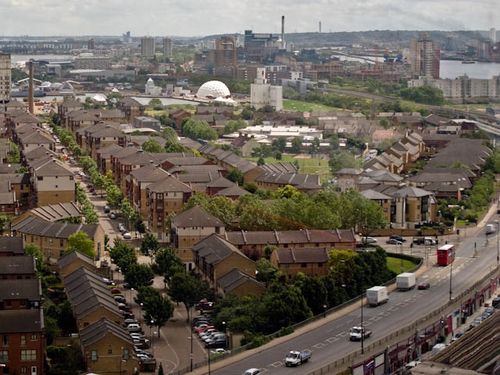 The ride does not take very long, although you can buy a return ticket and return to North Greenwich Peninsular immediately, or later. We decided to walk along the dockside and head towards the River Thames.
The Royal Docks are no longer working docks but their industrial heritage is referenced by the use of cranes as a decorative feature.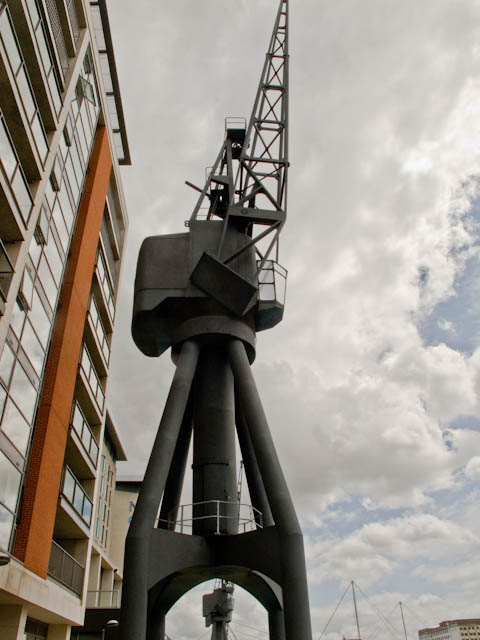 It's difficult to imagine the size of the docks until you see them. The buoys mark out the area which isn't safe for small boats. I know that, because I saw some people in kayaks. But I didn't photograph them and I don't know why.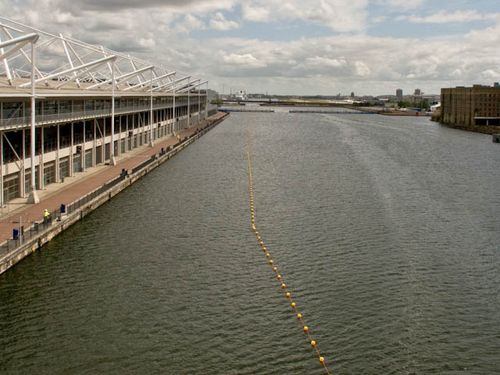 Once you have walked past the Excel there is a footbridge across the Dock. A quaint little thing. You take a lift to reach the deck. It is 15 metres above the water, to allow tall yachts to pass under. If you stand in the middle and look East, you have some great views of London City Airport.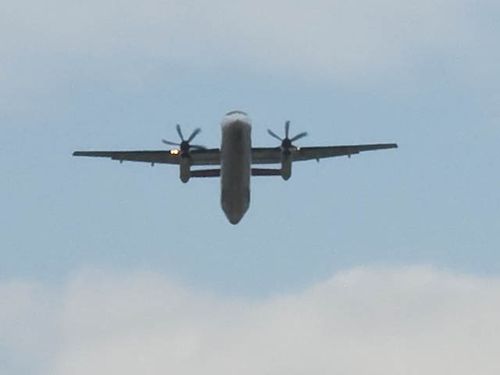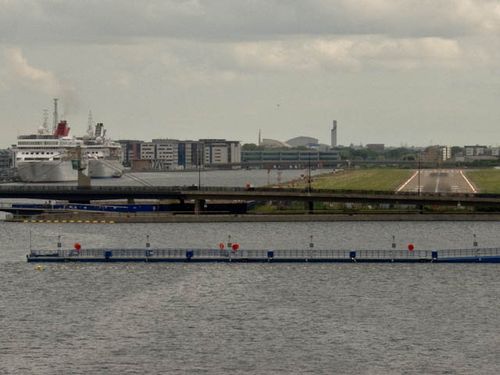 and if you look back, you see the towers of Canary Wharf rising behind the Dangleway.

The area to the south of the Royal Docks is still in need of attention, or regeneration. This surprised me because I had rather assumed the entire Docklands area had been transformed into Yuppie Flats. This warehouse looked semi-derelict: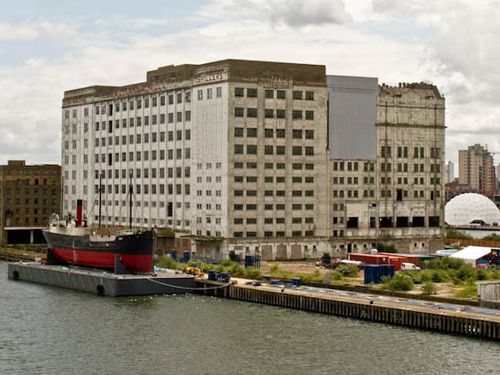 It seemed to be part of the site for the what turned out to be ill-fated London Pleasure Gardens project. We went past after the Bloc 2012 weekend, but before administration. It seemed very desolate and strangely out of place. I think this strange Golf Ball-like construction was part of the 'offer' from LPG.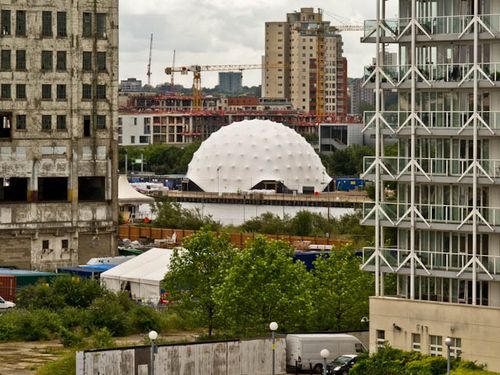 There's clearly potential in the area - I guess this is why the nearby Docklands Light Railway station is known as Pontoon Dock
It's more residential away from the excitement of London ExCel and associated hotels. The decorative cranes still dominate. From the residential streets, a clear view of the Emirates Airline and the Dome.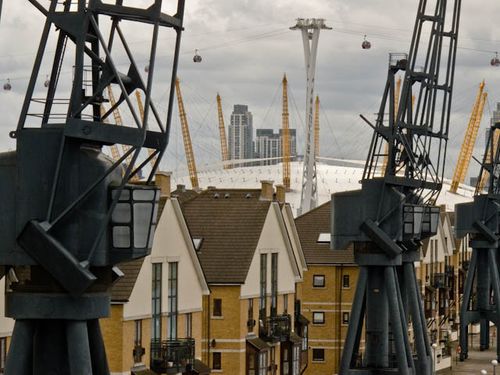 A sense of post-industrial bleakness lingered.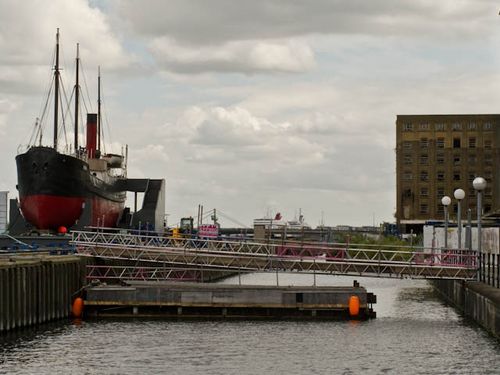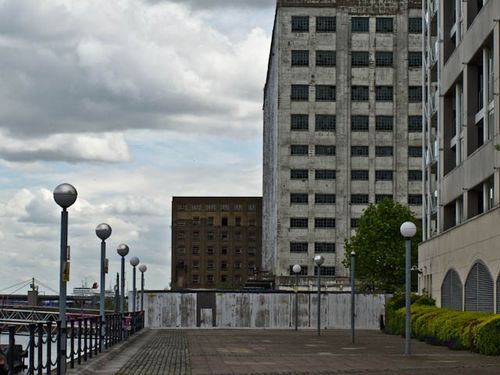 Depending on which way we looked there was Canary Wharf or an industrial chimney.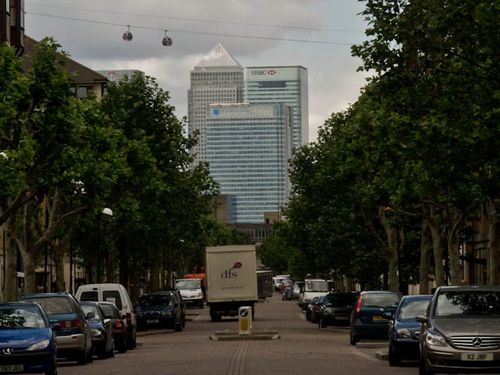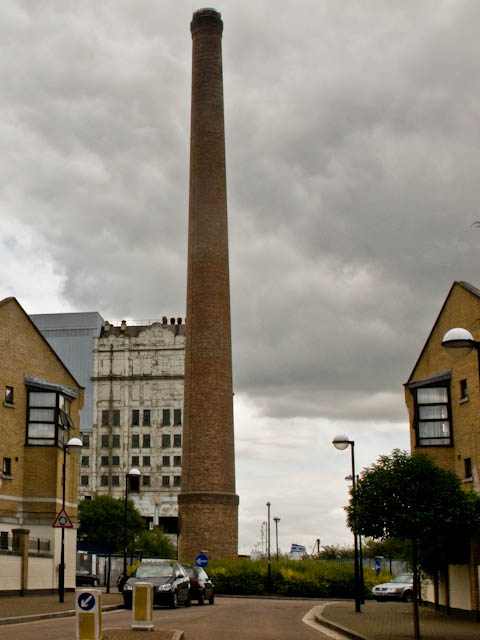 I had to photograph Pankhurst Avenue. The Silvertown page of Hidden Histories says:
 People sought to improve their working and living conditions through Trade Union and political activities and sought office on West Ham Council and in Parliament. Canning Town had become the focus of a number of new movements and a leading voice for working class people, Will Thorne and James Keir Hardy became leading figures in the Labour Party. Women played a significant part in the struggles Eleanor Marx, Sister Edith Kerrison, Daisy Parsons and Sylvia Pankhurst all worked to improve the plight of working class people and helped to shape the new services provided by the council, they were especially concerned with housing, health and welfare.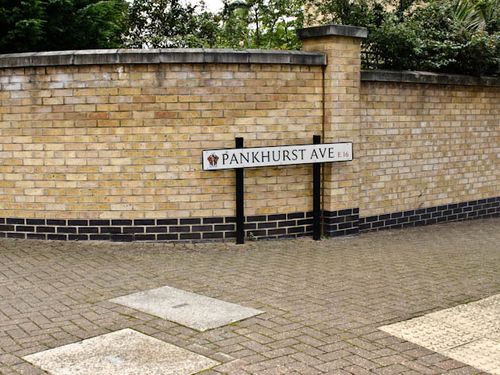 I took a picture of Millennium Mills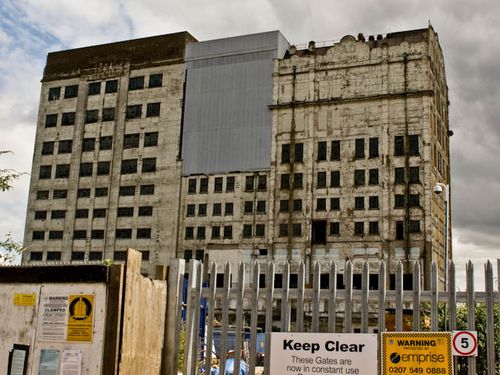 I think there's a lot of fascinating industrial history to research, or simply to read about in that area. But if you want to do it seriously, it's likely to take up a great deal of time. To be honest, I prefer to be more local, because you can just absorb hyperlocal information almost by osmosis, having a greater sense of place and context!
We crossed over Silvertown Way, but that will be another blogpost.